BMW 3: Low-voltage connections
In the low-voltage connector at the Electrical Machine Electronics the following lines and signals are combined:
Terminal 30 from the hybrid power distribution box
Terminal 30 from the front left power distribution box
Terminal 30C (terminal 30 crash signal)
Ground
FlexRay bus system
PT-CAN bus system
K-CAN 5 bus system
Input and output of the circuit of the high-voltage interlock loop (EME control unit evaluates the signal and initiates a shutdown of the high-voltage system in the event of an interruption to the circuit. Redundancy of battery management electronics (SME) )
Actuation of the shutoff valve in the vehicle interior
Activating the electrical vacuum pump
Evaluation of the rotor position sensor at the electrical machine
Evaluation of the temperature sensor at the electrical machine
Intelligent battery sensor of auxiliary battery (LIN bus).
The Electrical Machine Electronics is connected to the 12 V vehicle electrical system (terminals 30 and 31) via two separate low-voltage connections and lines with large cross-sections. Via this connection the DC/DC converter in the Electrical Machine Electronics provides the entire 12 V vehicle electrical system with energy. These two lines are connected with the Electrical Machine Electronics via a screw connection.
The following graphic summarizes the low-voltage connections of the Electrical Machine Electronics in the form of a simplified wiring diagram: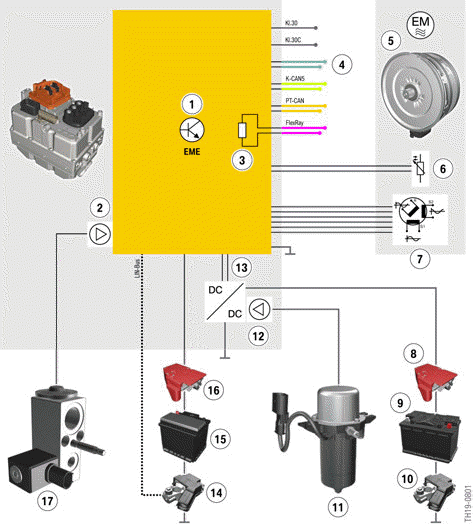 G20 PHEV, low-voltage connections of the Electrical Machine Electronics
Electric Motor Electronics (EME)
Output stage for activating the combined expansion and shutoff valve
Terminating resistor, FlexRay
Signal lines of the high-voltage interlock loop
Electrical machine (entirety)
Temperature sensor
Rotor position sensor
Safety Battery Terminal (SBK)
12 V battery
Intelligent Battery Sensor (IBS)
Electrical vacuum pump
Output stage for the activation of the electrical vacuum pump
Unidirectional DC/DC converter
Intelligent Battery Sensor (IBS2)
Additional 12 V battery
Safety Battery Terminal 2 (SBK2)
Combined expansion and shutoff valve (interior)
READ NEXT:
At the Electrical Machine Electronics, there is a total of three high-voltage connections to connect the lines for other high-voltage components. The connections for the electric A/C compressor and
The high-voltage cables connect the high-voltage components and are identified by orange cable sleeves. The manufacturers of hybrid cars have agreed on a uniform identification of the high-voltage c
Bridge for high-voltage interlock loop Before the high-voltage connector can be disconnected, the bridge for the high-voltage interlock loop must first be removed. The bridge closes the circuit
SEE MORE:
For some DVDs, settings can only be made via the DVD menu, refer also to the information on the DVD. Selecting the camera angle The availability of a different camera angle depends on the DVD and the current DVD track. 1. Press the button during playback. 2. "More functions". 3. "Camera perspec
Maintaining and storing the speed Press the rocker switch up or down once while the system is interrupted. The system will be activated. The current speed is maintained and stored as desired speed. The stored speed is displayed on the speedometer. DSC Dynamic Stability Control is switched on, if