BMW 3: Fuel preparation
The fuel preparation has again been adapted to meet the emission legislation requirements. The high pressure pump and the injectors have been revised and designed for an fuel injection pressure of 350 bar (5076 psi).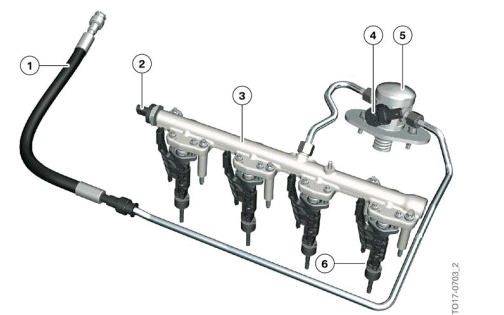 Overview of fuel preparation
Fuel delivery line
Rail pressure sensor
Direct rail
Quantity control valve
High pressure pump
Solenoid valve injector

Strict cleanliness must be observed when carrying out any work on the fuel system !
READ NEXT:
The single-piston high pressure pump by Bosch, well-known from the B46 engine, is used. The high pressure pump HDP6 is driven by a triple cam which is attached to the exhaust camshaft. To be able to
Injector mounting Mounting bolts Plastic sleeve (not required to be reinstalled after taken apart for service) Holding clamp with bayonet fitting Rail Solenoid valve injector Casting lug Th
Measures at the solenoid valve injector The following graphic illustrates the differences between the HDVE5 and HDEV6 fuel injectors: Solenoid valve injectors Solenoid valve injector HDEV5 Soleno
SEE MORE:
The regenerative braking makes possible brake energy regeneration. The electrical machine works here as an alternator and brakes the gears via automatic transmission - propeller shaft - rear axle differential - output shafts. The high-voltage battery unit is charged with the energy
Electrical machine electronics The function of the Electrical Machine Electronics (EME) is to activate and regulate the permanently excited synchronous machine in the high-voltage vehicle electrical system. This necessitates the use of a bidirectional DC/AC converter which converts the high-volta