BMW 3: Direct rail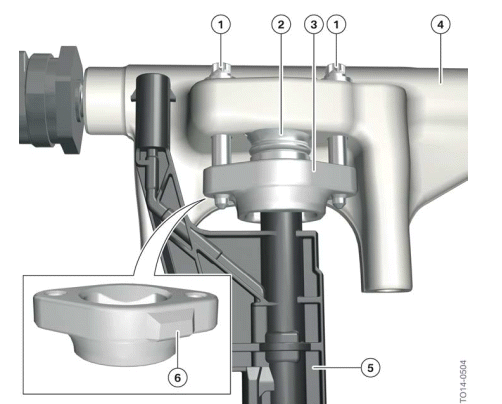 Injector mounting
Mounting bolts
Plastic sleeve (not required to be reinstalled after taken apart for service)
Holding clamp with bayonet fitting
Rail
Solenoid valve injector
Casting lug
The solenoid valve injectors are fastened to the holding clamp with a bayonet fitting. There is a plastic sleeve between the holding clamp and direct rail. This is not designed to collect escaping fuel. This is only used to support a helium leakage test during pre-assembly at the factory in order to check the tightness. After the initial assembly, this plastic sleeve is of no relevance to the engine operation. When the solenoid valve injectors are replaced, the plastic sleeves are no longer required and do not need to be reinserted.
The mounting bolts of the holding clamp must be replaced each time they are released.

The housing on the solenoid valve injectors is sensitive to excessive tensile forces and excessive rotational angles. When removing and installing the solenoid valve injectors, the procedure in the current repair instructions must be followed If the solenoid valve injectors are damaged, fuel may be discharged.
READ NEXT:
Measures at the solenoid valve injector The following graphic illustrates the differences between the HDVE5 and HDEV6 fuel injectors: Solenoid valve injectors Solenoid valve injector HDEV5 Soleno
Digital Motor Electronics (DME) DME 8 control unit The Digital Motor Electronics (DME) is the computing and switching center. Sensors on the engine and the vehicle deliver the input signals and actu
SEE MORE:
Tire size 245/45 R 18 96 Y 245: nominal width in mm 45: aspect ratio in % R: radial tire code 18: rim diameter in inches 96: load rating, not for ZR tires Y: speed rating, before the R on ZR tires Maximum tire load Maximum tire load is the maximum permissible weight for which the tire is approved.
General information Calls that are being made on the hands-free system can be continued on the mobile phone and vice versa. From the mobile phone to the hands-free system Calls that were begun outside of the Bluetooth range of the vehicle can be continued on the hands-free system with standby state