BMW 3: Solenoid valve injector
Measures at the solenoid valve injector
The following graphic illustrates the differences between the HDVE5 and HDEV6 fuel injectors: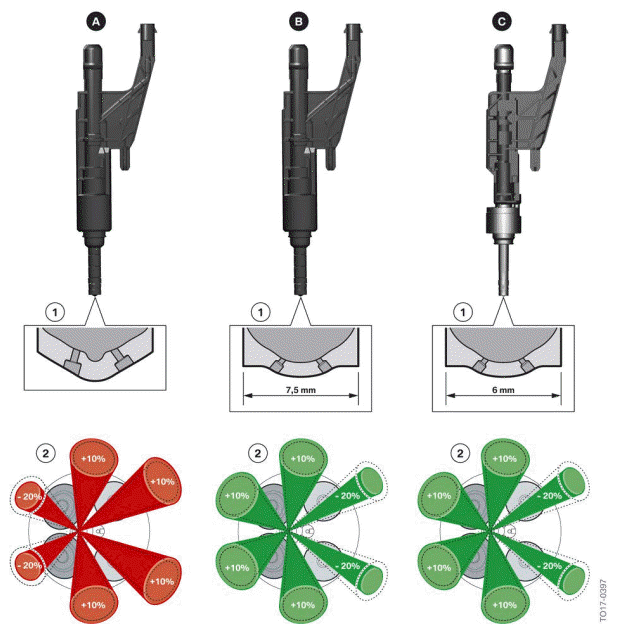 Solenoid valve injectors
Solenoid valve injector HDEV5
Solenoid valve injector HDEV5 EVO
Solenoid valve injector HDEV6 (B46TU engine)
Injector seat
Injection pattern and volumetric distribution
The new B46TU engine uses a solenoid valve injector HDEV6 by Bosch. Due to the more stringent exhaust gas emission regulations required to meet the exhaust emission standards, technical changes were again made to the solenoid valve injectors. Sorted fuel injectors are used. This means that they are hand selected at the factory and tested for the least amount of fuel leakage.
The solenoid valve injectors HDEV5 and HDEV5 EVO are used in the B46 engine. While keeping the fuel system pressure of 200 bar (2900 psi) (HDEV5 to HDEV5 EVO), a reduction in pollutant emission was achieved by changing the injection pattern and volumetric distribution.
Due to the fuel system pressure increase from 200 bar (2900 psi) to 350 bar (5076 psi), the solenoid valve injectors HEDV6 were optimized using suitable materials and coatings. The injection pattern and volumetric distribution have not changed compared with the HDEV5 EVO.

The repair instructions that are currently valid must be carefully followed when removing and installing the injectors in Service. An excessive rotational angle at the injector shank, and excessive tensile and compression forces during removal and installation can lead to damage and therefore leaks in the fuel system.
READ NEXT:
Digital Motor Electronics (DME) DME 8 control unit The Digital Motor Electronics (DME) is the computing and switching center. Sensors on the engine and the vehicle deliver the input signals and actu
SEE MORE:
The front radar sensor (FRS) or the front radar sensor long range (FRSF) is needed to reliably detect the vehicles in front. Consequently, adaptive recuperation is only possible with the optional equipment Active Cruise Control with Stop&Go function (SA 5DF). Adaptive recuperation can be
The driving and drive system modes are activated via the Driving Experience Control. The separate eDrive button, as known from the F30 PHEV, which can be used to shift through the drive system modes is no longer used. Its place is taken by the Battery Control button. G20 PHEV, center console