BMW 3: Exhaust System
Exhaust turbocharger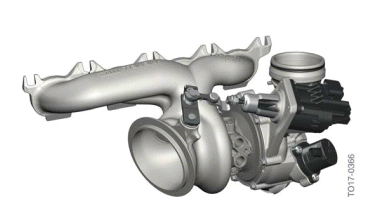 Exhaust turbocharger
The exhaust turbocharger can be replaced individually and is exclusively made of steel. The boost charge pressure is still controlled by an electrical wastegate valve.
The Turbo on the B46TU and B48TU are different in design.
READ NEXT:
The fuel system is made up of the fuel supply and fuel preparation systems. The fuel supply includes the fuel tank with all mounted parts and the fuel lines up to the engine compartment. The fuel p
The fuel preparation has again been adapted to meet the emission legislation requirements. The high pressure pump and the injectors have been revised and designed for an fuel injection pressure of 3
The single-piston high pressure pump by Bosch, well-known from the B46 engine, is used. The high pressure pump HDP6 is driven by a triple cam which is attached to the exhaust camshaft. To be able to
SEE MORE:
Setting the time zone Via iDrive: 1. "CAR". 2. "Settings". 3. "General settings". 4. "Date and time". 5. "Time zone:". 6. Select the desired setting. The setting is stored for the driver profile currently used. Setting the time Via iDrive: 1. "CAR". 2. "Settings". 3. "General settings". 4.
With a sufficient state of charge of the high-voltage battery unit, all-electric driving of the vehicle with maximum power of the electric drive is possible for up to 41 miles (66 km). The maximum speed in this case is 87 mph (140 km/h). In the STANDARD variant, all ECO PRO setting