BMW 3: Connection for potential compensation lines
The isolation monitoring determines whether the isolation resistance between active high-voltage components (e.g. high-voltage cables) and ground is above or below a required minimum value. If the isolation resistance falls below the minimum value, the danger exists that the vehicle parts will be energized with hazardous voltage. If a person were to touch a second active high-voltage component, he or she would be at risk of electric shock.
There is therefore fully automatic isolation monitoring for the high-voltage system of the G20 PHEV. It is performed by the battery management electronics at regular intervals while the high-voltage system is active. Ground serves as the reference potential. Without additional measures only local isolation faults in the high-voltage battery unit could be determined in this way. However, it is equally important to identify isolation faults from the high-voltage cables in the vehicle to ground. For this reason all the electrically conductive housings of high-voltage components are conductively connected to ground.
In this way isolation faults in the entire high-voltage electrical system can be identified from a central point by the isolation monitoring.

The high-voltage system must not be operated if the potential compensation cables are not properly connected to the high-voltage components.
If in the event of a repair the high-voltage components or the body components are replaced, the following must be observed during assembly: The connection between the housing and the body must be properly re-established. The repair instructions must be strictly observed (clean/corrosion- free/unpainted contact surfaces, tightening torques, documentation).
Connections for coolant lines
The Electrical Machine Electronics is cooled by a separate coolant circuit. The coolant connections can be seen in the graphic at the beginning of this subchapter.
Ventilation holes
The bottom of the housing is provided with a ventilation feature to prevent water (resulting from temperature changes and thus possible condensation of air moisture) from collecting inside the Electrical Machine Electronics. This ventilation feature also enables pressure equalization between the inside of the housing and the surrounding area. To fulfil these two tasks, the ventilation feature has a diaphragm that is permeable for gases but impermeable for fluids.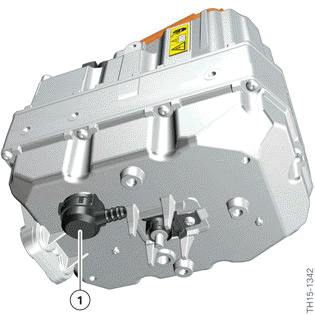 Ventilation of the Electrical Machine Electronics
Ventilation
READ NEXT:
The Electrical Machine Electronics is made up internally of three subcomponents: Bidirectional DC/AC converter Unidirectional DC/DC converter EME control unit The Electrical Machine Electronics
The DC/DC converter in the Electrical Machine Electronics of the G20 PHEV is able to adopt the following operating modes: Standby (also in the event of a component fault or short circuit, powe
The power electronics for the activation of the electrical machine are mainly made up of the bidirectional DC/AC converter. It is a pulse converter with a 2-pin DC voltage connection and a 3-phase A
SEE MORE:
Concept This system projects important information into the driver's field of vision, for instance the speed. The driver can get information without averting his or her eyes from the road. General information Follow the information on cleaning the Head-up Display. Overview Switching on/off Via iDr
The G20 PHEV is a Full-Hybrid Generation 4.0 vehicle. In contrast to generation 2 and 3 hybrid vehicles, electrical driving is possible in the G20 PHEV at much higher speeds and with a higher range. Similar to the GA8P70HZ transmission, the combustion engine is also disconnected from the electri