BMW 3: Concept, General information, Safety information
Concept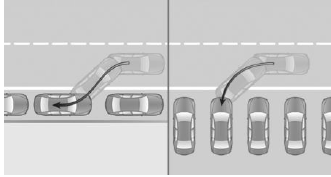 The system supports the driver in the following situations:
When parking parallel to the road, parallel parking.
When reverse parking diagonally to the road, diagonal parking. The system orients itself with the middle of the parking space during diagonal parking.
When driving out of parallel parking spaces.
When exiting tight or confusing parking or street situations in reverse, see Back-up assistant.
General information
Handling
Parking assistant handling is divided into three steps:
Switching on and activating.
Parking space search.
Parking.
System status and instructions on required actions are displayed on the Control Display.
Ultrasound sensors measure parking spaces on both sides of the vehicle.
Steptronic transmission
The parking assistant calculates the best possible parking line and takes control of the following functions during the parking procedure:
Steering.
Accelerating and braking.
Changing the gears.
Parking is automatic.
Safety information
Warning The system cannot serve as a substitute for the driver's personal judgment in assessing the traffic conditions. Based on the limits of the system, it cannot independently react to all traffic situations. There is a risk of accident. Adjust driving style to traffic conditions. Watch traffic closely and actively intervene where appropriate.
NOTICE The parking assistant can steer the vehicle over or onto curbs. There is a risk of damage to property. Watch traffic closely and actively intervene where appropriate.
The safety information of the PDC Park Distance Control applies in addition.
READ NEXT:
Button in the vehicle Park assistance button Ultrasound sensors With the four side ultrasound sensors, arrows, and the ultrasound sensors in the bumpers, the parking spaces are measured and the dis
System activated/deactivated Gray: the system is not available. White: the system is available but not activated. System is activated. Parking space search is active. The parking procedure
Concept The system makes driving out of parallel parking spaces easier. General information Steptronic transmission The parking assistant calculates an optimal line for pulling out of a parking space
SEE MORE:
General information Up to 30 trips can be stored in the trip list. If necessary, delete existing trips to be able to store new trips. Storing The destination guidance for the tip must be active. 1. Press the button on the Controller. 2. "Destination options". 3. "Save trip". 4. Enter the name.
General information If the driver's door is opened when the drive-ready state is switched off, the exterior lighting is automatically switched off. Parking lights General information The parking lights can only be switched on in the low speed range. Switching on Press the button on the light switch