BMW 3: Radio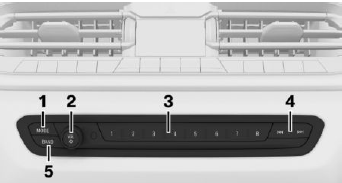 Changing the entertainment source
Sound output on/off, volume
Programmable memory buttons
Changing the station/track
Waveband/satellite radio
Navigation destination entry
Entering a destination via quick search
1.

Press the button on the Controller.
2.

"Where to?"
3. Enter at least two letters or characters.
The search term may be completed automatically in gray print.
Press or move the controller up to apply the suggested search term.
4.

Select the symbol, if needed.
Results are displayed in a list.
5. "Search location": select search location.
6. Move the Controller to the right.
7. Select desired destination.
Connecting a mobile phone
General information
After the mobile phone is connected once to the vehicle, the mobile phone can be operated using iDrive and the steering wheel buttons.
Connecting the mobile phone via Bluetooth
Via iDrive:
1. "COM".
2. If necessary, select the following setting: "Telephone".
3. "Connect new phone".
4. To perform additional steps on the mobile phone, refer to the mobile phone owner's manual: e.g., search for or connect the Bluetooth device or a new device.
The Bluetooth name of the vehicle appears on the mobile phone display. Select the Bluetooth name of the vehicle.
5. Depending on the mobile device, a control number is displayed or the control number must be entered.
The device is connected and displayed in the device list.
READ NEXT:
Accepting a call Depending on the equipment, incoming calls can be answered in several ways. Via iDrive: "Accept" Press the button on the steering wheel. Via the selection list in the instrum
SEE MORE:
The function does not have any separate display or operating elements. The function is only available in the HYBRID ECO PRO driving mode. The function cannot be deactivated. Recuperation is displayed as usual in the instrument cluster below the drive-ready state indicator (CHARGE area).
In the G20 PHEV an acoustic protection for pedestrians is used as standard. To protect pedestrians a distinctive sound created specially for electric BMW models is generated during electric driving. In comparison with the predecessor model, this is no longer a K CAN3 control unit with integrated