BMW 3: Widgets in the instrument cluster
Concept
Displays for specific functions can be displayed in the tachometer in the instrument cluster.
The following displays can be selected:
Current entertainment source, e.g., radio.
Torque and power.
Trip data.
Efficiency display.
Selecting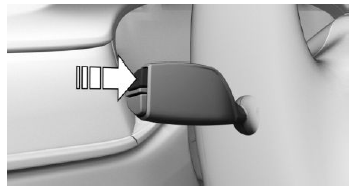 Continue to press the button on the turn signal lever until the desired widget is selected.
Display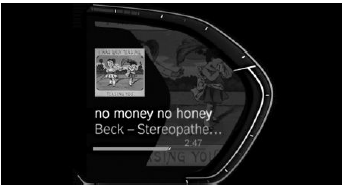 Efficiency display
Concept
Information about driving style and consumption can be displayed in the form of a consumption display as a widget in the instrument cluster, for example.
General information
Depending on the activated driving mode, different information will be displayed: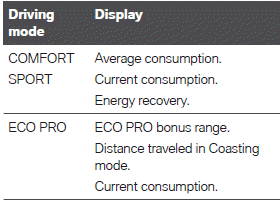 Average consumption
The average consumption indicates the fuel consumption when driving a specific route.
Current consumption
The current consumption displays the current consumption of fuel. Check whether you are currently driving in an efficient and environmentally-friendly manner.
Energy recovery
During energy recovery, the kinetic energy of the vehicle is converted into electric energy during coasting. The vehicle battery is partially charged and fuel consumption can be reduced.
ECO PRO bonus range
In the ECO PRO driving mode, the yielded extension of the range as a result of fuel-efficient driving is displayed as ECO PRO bonus range.
READ NEXT:
Concept The Check Control system monitors functions in the vehicle and notifies you of malfunctions in the monitored systems. General information A Check Control message is displayed as a combination
Concept Indicator/warning lights in the instrument cluster display the status of some functions in the vehicle and indicate when a malfunction is present in the monitored systems. General information
Concept The current fill level of the fuel tank is displayed. General information Vehicle tilt position may cause the display to vary. Display An arrow beside the fuel pump symbol shows which side of
SEE MORE:
Starting destination guidance 1. Press the button on the Controller. 2. Select the type of destination entry. 3. Select the destination. 4. If necessary, start destination guidance. Information window for destination guidance General information After the route has been started, an information w
General information Calls that are being made on the hands-free system can be continued on the mobile phone and vice versa. From the mobile phone to the hands-free system Calls that were begun outside of the Bluetooth range of the vehicle can be continued on the hands-free system with standby state