BMW 3: Buttons for the central locking system
General information
In the event of a severe accident, the vehicle is automatically unlocked. The hazard warning system and interior lights come on.
Overview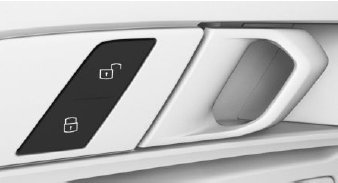 Buttons for the central locking system.
Locking

Press the button with the front doors closed.
The fuel filler flap remains unlocked.
The vehicle is not secured against theft when locking.
Unlocking

Press the button.
Opening
READ NEXT:
Concept The vehicle can be accessed without operating the vehicle key. Carrying the vehicle key with you, e.g., in your pants pocket, is sufficient. The vehicle automatically detects the vehicle key
General information The behavior of the vehicle during unlocking via the Comfort Access depends on the following settings: If the unlocking of the vehicle is confirmed with a light signal or a soun
General information If you open the trunk lid via Comfort Access, locked doors will not be unlocked. To avoid locking the vehicle key in the vehicle, do not place the vehicle key in the cargo area. S
SEE MORE:
Safety information Warning The system is designed to operate in certain conditions and circumstances. Due to conditions or other factors, the system may not respond. There may be a risk of accident or risk of damage to property. Actively intervene as warranted. Refer to the information in this Own
Concept When destination guidance is activated, a list of route sections can be displayed. General information The following information is displayed: Display of destination guidance information, such as turn information or lane information. Traffic events and traffic flow. Points of Interest a