BMW 3: Route guidance
Adaptive recuperation uses the data and calculations of the route-ahead assistant. In this way, adaptive recuperation can be used by the navigation system when route guidance is both active and not being used. When the route guidance is not active, the most likely route is used for evaluation.
However, the stretch of road can be calculated more accurately, and therefore more efficiently, when the route guidance is active.
Decelerations
The following diagram shows the extent of the energy recovery with and without adaptive energy recovery depending on the speed. The brake lights are not activated automatically during recuperation.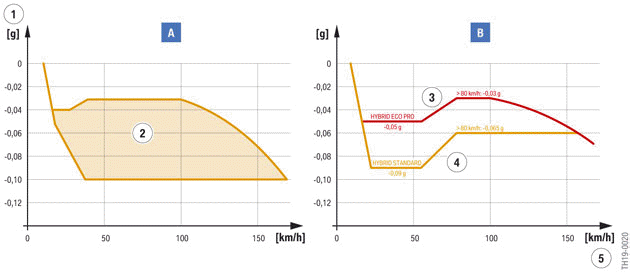 G20 PHEV comparison of deceleration with and without adaptive recuperation
Vehicle with adaptive energy recovery (example: G20 PHEV)
Vehicle without adaptive energy recovery (example: G12 LCI PHEV)
Deceleration by recuperation
Control range of adaptive recuperation
Control of recuperation in HYBRID ECO PRO driving mode
Control of recuperation in HYBRID STANDARD driving mode
Vehicle speed
To illustrate this: -0.1 g (-0.981 m/s2) corresponds to a speed reduction of approximately 2 mph (3.5 km/h) per hour.
Deceleration to a standstill does not happen since in the low speed range the vehicle is driven via the automatic transmission (creeping).
READ NEXT:
The front radar sensor (FRS) or the front radar sensor long range (FRSF) is needed to reliably detect the vehicles in front. Consequently, adaptive recuperation is only possible with the optional eq
The function does not have any separate display or operating elements. The function is only available in the HYBRID ECO PRO driving mode. The function cannot be deactivated. Recuperation i
The anticipatory hybrid drive has been revised and enhanced with the G20 PHEV. The driver can find this function under "Anticipatory hybrid drive" in the vehicle literature and the vehicle's in
SEE MORE:
General information Depending on the equipment, the exterior lighting of the vehicle can be set individually. Activating/deactivating Via iDrive: 1. "CAR". 2. "Settings". 3. "Exterior lighting". 4. Select the desired setting: "Welcome and goodbye" When unlocking the vehicle, individual light
Concept CarPlay allows certain functions of a compatible Apple iPhone to be used via Siri voice operation and iDrive. Functional requirements Compatible iPhone. iPhone 5 or later with iOS 7.1 or later. Corresponding mobile contract. Bluetooth, WiFi, and Siri voice operation are activated on th