BMW 3: Anticipatory hybrid drive
The anticipatory hybrid drive has been revised and enhanced with the G20 PHEV. The driver can find this function under "Anticipatory hybrid drive" in the vehicle literature and the vehicle's integrated owner's manual.
Here, with active route guidance by the navigation system the route is analyzed and the operating strategy adapted to the stretch of road. The navigation and traffic data of the individual distances permit a calculation of the power required to cover these distances.
Based on these power forecasts and the state of charge of the high-voltage battery unit, a decision is made on whether the combustion engine or the electric motor is used for this distance. The aim is to reserve the electrical energy for the destination zone, the urban environment and further stretches in which the vehicle is driven at a lower speed. If necessary, the high-voltage battery unit must be actively charged beforehand (load point increase) for this purpose.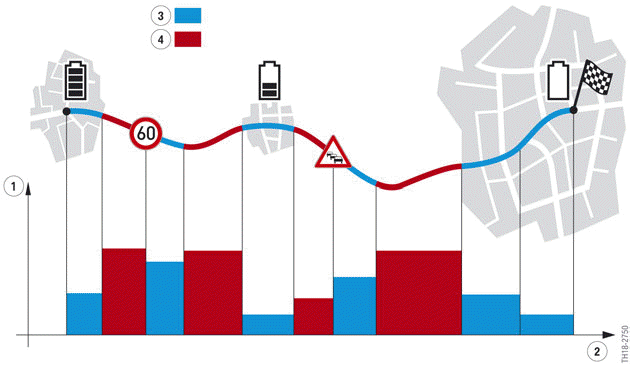 Anticipatory hybrid drive
Power forecast for the respective distance
Distance travelled
Use of the electric motor
Use of the combustion engine
Anticipatory use of the electrical energy can reduce consumption and also enhance the experience of electric driving for the driver. The combustion engine is switched off where the driver expects and also senses it (at low speeds with a low noise level, e.g. in towns).
New features:
Extension of the slow-driving zone
The classification of a slow-driving zone necessary for the function has been extended to entire towns. In this way, the electrical energy is reserved for electric driving in urban environments. Previously, only individual stretches were taken into account with up to approximately 18 mph (30 km/h).
More intelligent distribution of electrical energy
Reserving the electrical energy for stretches in which the vehicle is driven more slowly (e.g. for top speed limitations, in traffic jams, construction sites) is now possible in a number of driving modes. Previously, this was only possible in the ECO PRO driving mode.
The following requirements must be fulfilled for the function of the anticipatory hybrid drive:
Route guidance activated in the navigation system
HYBRID STANDARD, HYBRID ECO PRO or ADAPTIVE driving mode used.
The anticipatory hybrid drive is not available in the ELECTRIC driving mode and when BATTERY CONTROL is used. Anticipatory energy recovery is only possible on downhill gradients in the SPORT driving mode or the sport/manual position of the gear selector switch.
The following table once again provides a summary of the functionality depending on the respective driving mode.
The anticipatory hybrid drive appears in the energy flow display of the Central Information Display.
A relevant note is displayed when a corresponding situation occurs or in the course of preparation for such a situation.
READ NEXT:
As in previous BMW hybrid vehicles, an electrically powered air conditioning compressor is used in the G20 PHEV. Because the A/C compressor has an electric motor, it is possible to operate the
G20 PHEV, components of refrigerant circuit Combined expansion and shutoff valve (interior) Combined expansion and shutoff valve (high-voltage battery unit) High-voltage battery unit Refrig
Electric A/C compressor (EKK) Signal connector Low pressure line (gaseous refrigerant at low temperature and low pressure) High-voltage connector High pressure line (gaseous refrigerant at hig
SEE MORE:
General information LATCH: Lower Anchors and Tether for Children. Pay attention to the specifications and the operating and safety information from the child restraint system manufacturer when selecting, installing, and using LATCH child restraint fixing systems. Mounts for the lower LATCH anchors
Countries in which ConnectedDrive is not available: The name that was assigned when the driver profile was set up can be changed via iDrive: 1. "CAR". 2. "Driver profiles". As an alternative for Steps 1 and 2, the profile image can be tapped in the top status bar. 3. Select driver profile. 4. "S