BMW 3: Overview
The driving and drive system modes are activated via the Driving Experience Control. The separate eDrive button, as known from the F30 PHEV, which can be used to shift through the drive system modes is no longer used. Its place is taken by the Battery Control button.

G20 PHEV, center console switch cluster
The driving modes can be activated using the individual buttons and some driving modes can be configured via the controller. The "ADAPTIVE" button is installed depending on the equipment.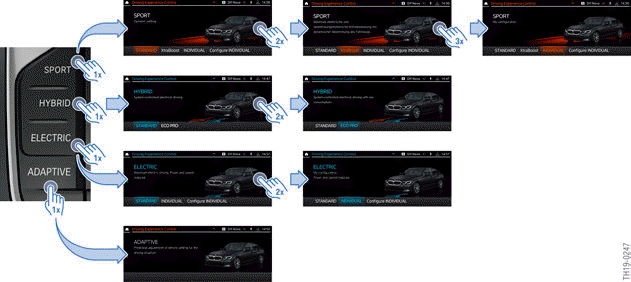 G20 PHEV, overview of driving modes
The HYBRID driving mode is divided into 2 specified variants and/or attributes. It is possible to shift through these variants by repeatedly pressing the corresponding button on the Driving Experience Control. Alongside the standard variant, the SPORT and ELECTRIC driving modes have an individual variant which the driver can also shift through by repeatedly pressing the Driving Experience Control.
In addition, these two driving modes can be configured using the controller.
The SPORT driving mode for the first time features the XtraBoost variant, in which the vehicle has maximum system output.
The familiar ECO PRO functions known from other BMW models can be activated in HYBRID and ELECTRIC driving modes in a sub-function.
A shift of the gear selector switch to the Sport/Manual position is possible in the D drive position. Here the combustion engine is turned on and the drive adopts a sporty style (shift characteristic, accelerator pedal, etc.). The chassis and suspension settings are not changed here.
In the ELECTRIC driving mode manual shifting via the shift paddles on the steering wheel leads to a change to the HYBRID driving mode with its last selected variant.
READ NEXT:
In the HYBRID driving mode, the vehicle chooses the optimum drive combination depending on the state of charge of the high-voltage battery unit and accelerator pedal position. If the driver's power
The HYBRID ECO PRO driving mode rigorously supports a driving style that reduces consumption and its attribute corresponds to the combination of ECO PRO and Auto eDrive of the predecessor
With a sufficient state of charge of the high-voltage battery unit, all-electric driving of the vehicle with maximum power of the electric drive is possible for up to 41 miles (66 km). The maxi
SEE MORE:
Concept BMW Digital Key allows the vehicle to be unlocked and locked, as well as started, with a compatible smartphone. General information BMW Digital Key varies by country and may be unavailable. To unlock and start a vehicle with a compatible smartphone, a digital key must be installed on this s
The heat management module replaces the characteristic map thermostat. Heat management module Electrical Split Cooling Valve (SCV) Coolant output towards the coolant pump Electrical actuator Rotary valve A rotary valve inside the heat management module ensures needs-driven cooling of the var