BMW 3: Innovations B46TU/B48TU
Innovations B46TU
To meet the legal requirements for emissions, a number of technical improvements have been implemented. The technical updates for the B46TU engine include the following new features: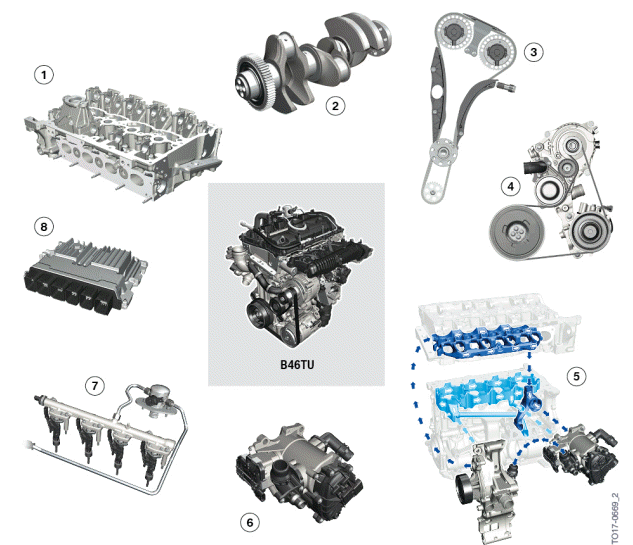 New features
Modified cylinder head
Crankshaft weight reductions
Single-part timing chain drive
Modified belt guide
Split cooling
Heat management module with electrical Split Cooling Valve (SCV)
Fuel preparation with 350 bar (5076 psi) injection pressure
DME 8
Weight savings in the crankshaft drive area, injection pressure boosting in the fuel preparation area, and function changes in the engine cooling area have made it possible to reduce the CO2 emissions by 2.5 - 5%, while increasing engine performance by 5 kW/20 Nm (8 hp/15 lb-ft).
Innovations B48TU
The technical improvements made to the B48TU engine a highlighted below:
302 hp (225 kW)
332 lb-ft (450 Nm)
Reinforced crankshaft with larger main bearing diameter.
New piston with modified compression.
New connecting rods without a bearing on small end.
Newly developed larger exhaust turbocharger with integrated air-diverter valve.
Modified fuel injectors with increased flow rate and 350 bar pressure.
Newly developed intake air pipes for higher power and torque.
Modified exhaust system to minimize back pressure.
Engine cover with M Performance logo.
READ NEXT:
B46TU engine Engine identification - transverse mounted shown B48TU engine Engine identification - transverse mounted shown Engine number Engine identification The 7-digit engine identification
Engine housing Cylinder head The cylinder head is made of aluminum. Only slight modifications have been made to the B46TU head compared to the B46. Cylinder head Crankshaft drive Crankshaft Comparis
SEE MORE:
Injector mounting Mounting bolts Plastic sleeve (not required to be reinstalled after taken apart for service) Holding clamp with bayonet fitting Rail Solenoid valve injector Casting lug The solenoid valve injectors are fastened to the holding clamp with a bayonet fitting. There is a pla
General information Navigation data is stored in the vehicle and can be updated from a USB storage device. Current navigation data is available from a dealer's service center or another qualified service center or repair shop or in the ConnectedDrive Store. Depending on the data volume, the naviga