BMW 3: Engine identification
B46TU engine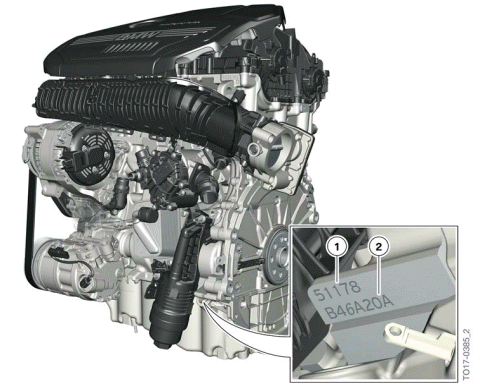 Engine identification - transverse mounted shown
B48TU engine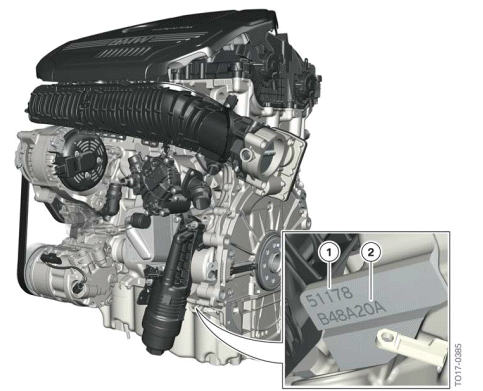 Engine identification - transverse mounted shown
Engine number
Engine identification
The 7-digit engine identification is located on the crankcase in the area of the mounting for the crankshaft alignment pin. The first 6 digits of the engine identification code. Only the seventh digit is different. The seventh digit of the engine identification code is the test number of the type approval certification.
The 4th digit in the engine identification shown above is an A, this represents its a transverse mounted engine that will be installed in the F39 M35i. The G20 and G29 will have a B in the 4th position that represents the engine is longitudinal mounted.
The consecutive engine number is embossed above the engine identification. Using these two numbers the engine can be clearly identified by the manufacturer.
Technical data
The B46B20O1 and B46B20T1 engine is described: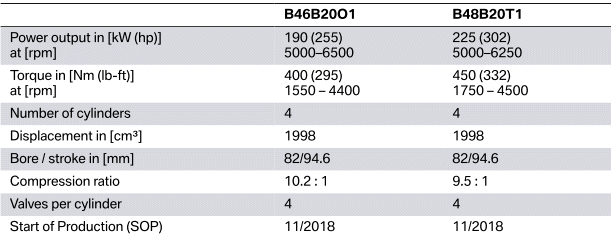 Model overview
The table below provides an overview of the models in which the new B46TU and B48TU engine is used.

READ NEXT:
Engine housing Cylinder head The cylinder head is made of aluminum. Only slight modifications have been made to the B46TU head compared to the B46. Cylinder head Crankshaft drive Crankshaft Comparis
Connecting rod Piston Area transferring the force Wrist pin Connecting rod bearing with shaped bore hole Connecting rod Connecting rod bearing (B46TU only) Small connecting rod eye (trapezoid
SEE MORE:
General information The behavior of the vehicle during unlocking via the Comfort Access depends on the following settings: If the unlocking of the vehicle is confirmed with a light signal or a sound signal. If the welcome light is switched on when the vehicle is being unlocked. If the exterior
Glare shield Fold the sun visor down or up. Glare shield from the side Folding out 1. Fold the sun visor down. 2. Unhook it from the holder and swing it to the side. 3. Move it back to the desired position. Folding up Proceed in the reverse order to close the sun visor. Vanity mirror A vanity mirr