BMW 3: Engine housing, Crankshaft drive
Engine housing
Cylinder head
The cylinder head is made of aluminum.
Only slight modifications have been made to the B46TU head compared to the B46.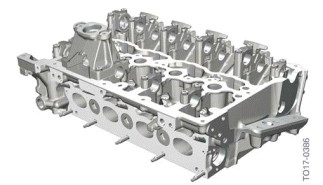 Cylinder head
Crankshaft drive
Crankshaft
Comparison B46 crankshaft with B46TU crankshaft
The crankshaft of the B46TU engine have been revised. Material adaptations have to both the counterweights and the connecting rod bearing journals have made it possible to achieve weight savings of up to 1043 g (2.3 lbs).
A reinforced crankshaft with larger main bearing diameter is used in the B48A20T1 engine.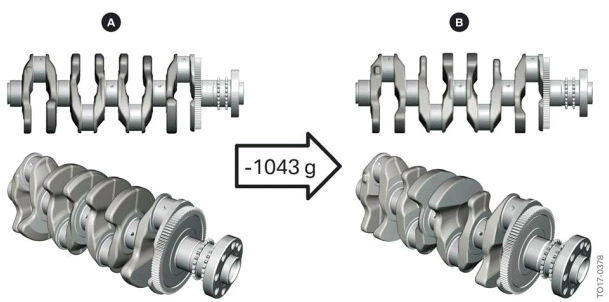 Comparison of crankshaft B46 engine with B46TU engine
Crankshaft of B46 engine
Crankshaft B46TU engine
READ NEXT:
Connecting rod Piston Area transferring the force Wrist pin Connecting rod bearing with shaped bore hole Connecting rod Connecting rod bearing (B46TU only) Small connecting rod eye (trapezoid
Detailed magnification of the IROX coating IROX-coated bearing shell Oil film IROX coating Bearing shell Binding resin Hard particle Solid lubricant The IROX coating is applied to a conventi
Features: Chain drive at the side of the engine emitting the forces. Single-part chain drive for driving the camshafts. Single sleeve-type chain 8 mm. Electric motor of the combined oil-vacu
SEE MORE:
Concept Addresses, Points of Interest, and the current position can be stored as Favorites. Storing current position as a Favorite General information The current position can also be stored after entering a destination or via the interactive map, even while driving. Storing 1. Press the button on t
The positions of the rotary valve at engine operating temperature are shown by area C of the heat management module circuit diagram. Operating temperature The graphic shows control with the engine at operating temperature. The position of the rotary valve means that the cross-sections of the resp