BMW 3: IROX coating - Crankshaft drive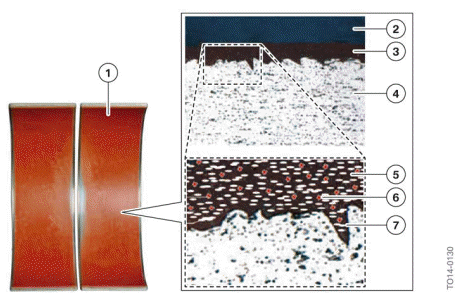 Detailed magnification of the IROX coating
IROX-coated bearing shell
Oil film
IROX coating
Bearing shell
Binding resin
Hard particle
Solid lubricant
The IROX coating is applied to a conventional bearing shell. It consists of a binding resin matrix made of polyamide-imide with embedded hard particles and solid lubricants. The polyamide-imide ensures, in combination with the hard particles, that the bearing shell surface is so hard that material abrasion is no longer possible. The solid lubricants reduce surface friction and replace the oil film which briefly no longer exists between the bearing shell and the connecting rod bearing journal during the starting phase. The IROX bearings are red due to their special coating.
The IROX-coated bearing shells are only located on the connecting rod side as here the load acts mainly on the bearing shells. The bearing shell caps are equipped with a bearing shell without IROX coating.

If a connecting rod bearing cap is mounted the wrong way round or on another connecting rod, the fracture structure of both parts is destroyed and the connecting rod bearing cap is not centered. In this event the entire set of connecting rods must be replaced with new parts. In Service please observe the specified jointing torques and angle of rotation specifications in the repair instructions.
Bearing shell classification of connecting rod bearing
The connecting rod bearing shells are available in one standard size. It is therefore not necessary to follow a procedure similar to that used with the main bearing shells of the crankshaft.
READ NEXT:
Features: Chain drive at the side of the engine emitting the forces. Single-part chain drive for driving the camshafts. Single sleeve-type chain 8 mm. Electric motor of the combined oil-vacu
Chain tensioner Tensioning rail Sealing sleeve Chain tensioner with screw thread Due to the cylinder head manufacturing process, the chain tensioner now has a sealing sleeve with a height of 12
VANOS VANOS unit B46 engine and B46TU/B48TU engines VANOS B46 engine VANOS B46TU and B48TU engine Following the changeover from a two-part chain drive to a single-part chain drive, the camshaft
SEE MORE:
Turn signal in exterior mirror When driving and during operation of the turn signals or hazard warning system, do not fold in the exterior mirrors, so that the signal lights on the exterior mirror are easy to see. Using turn signals Press the lever past the resistance point. Triple turn signal acti
Intelligent emergency call Concept In case of an emergency, an Emergency Request can be triggered automatically by the system or manually. General information Only press the SOS button in an emergency. The Intelligent Assist system establishes a connection with the BMW Response Center. For technica