BMW 3: Cooling
To guarantee the thermal operating safety of the electrical machine in every situation, it is cooled with coolant in the G20 PHEV. For this, the electrical machine is integrated in the coolant circuit of the transmission.
To cool the stator coils, the transmission oil is directed through a coolant duct between the stator support and the housing of the automatic transmission. The coolant duct is sealed at the front and back with two sealing rings.
The rotor is also cooled by transmission oil, which absorbs heat energy in the form of oil mist and dissipates it to the ambient air at the transmission oil cooler.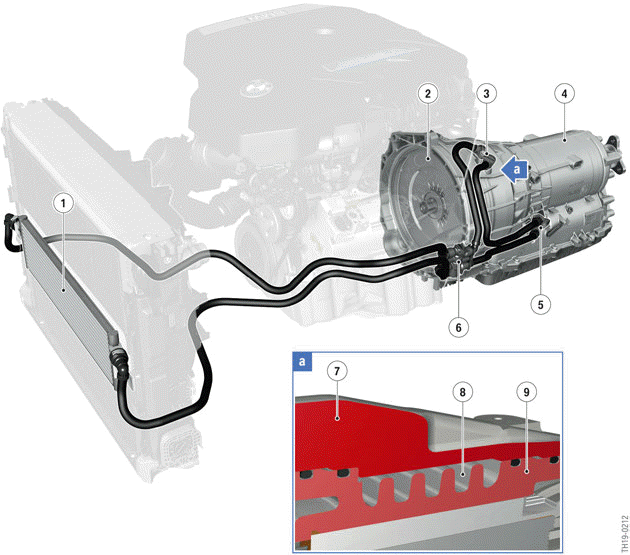 G20 PHEV, cooling of the electrical machine
Transmission oil cooler
Electric motor
Connection of transmission oil lines (for cooling the electrical machine)
Automatic transmission
Connection of transmission oil lines (for cooling the automatic transmission)
Transmission oil thermostat
Automatic transmission housing
Transmission oil duct electrical machine
Stator support
Service information

The lid in front of the electrical machine cannot be opened in Service. All work at the electrical machine, the additional torsional vibration damper, the separation clutch, as well as at the rotor position sensor itself, is prohibited. In the event of a fault with one of these components, the entire automatic transmission must be replaced.
Before removing the automatic transmission, the electrical safety rules must be applied.
After replacement of the automatic transmission or the Electrical Machine Electronics, the rotor position sensor must be adjusted with help of the diagnosis system.
The dual-mass flywheel can be replaced separately. Always proceed in accordance with the current repair instructions.
READ NEXT:
The Electrical Machine Electronics (EME) is primarily used as control electronics for the electrical machine. It is also responsible for converting the direct current voltage from the high-voltage b
The connections at the Electrical Machine Electronics can be divided into four categories: Low-voltage connections High-voltage connections Connection for potential compensation line Connections
SEE MORE:
Concept Pressing the Start/Stop button switches drive-ready state on or off. Steptronic transmission: the drive-ready state is switched on when you depress the brake pedal while pressing the Start/Stop button. Pressing the Start/Stop button again switches drive-ready state back off and standby sta
Concept CarPlay allows certain functions of a compatible Apple iPhone to be used via Siri voice operation and iDrive. Functional requirements Compatible iPhone. iPhone 5 or later with iOS 7.1 or later. Corresponding mobile contract. Bluetooth, WiFi, and Siri voice operation are activated on th