BMW 3: Components and their installation location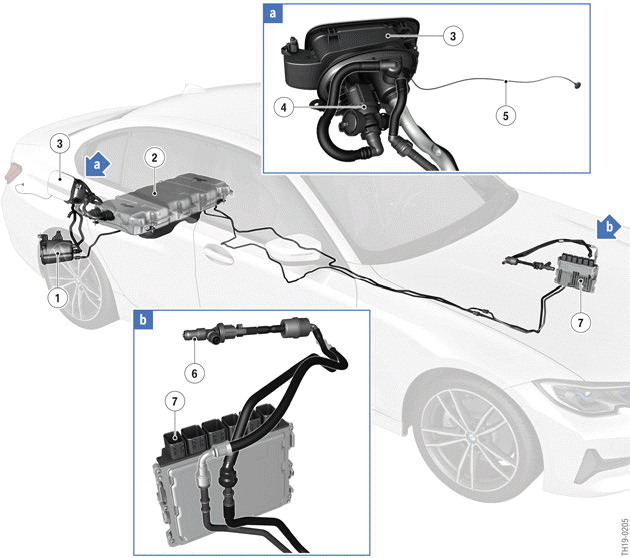 G20 PHEV components of the fuel supply in European version
Carbon canister
Pressurized fuel tank (in cast aluminum housing)
Fuel filler flap with cover
Fuel tank isolation valve
Cable for emergency release of the fuel filler flap
Tank vent valve
Digital Motor Electronics (DME)
Fuel tank isolation valve
The fuel tank isolation valve is opened to reduce the tank pressure during driving if the system limit is reached. In parked, this is achieved by a mechanical valve which is integrated in the fuel tank isolation valve. It is additionally opened before refuelling to ventilate the pressurized fuel tank.
The fuel tank isolation valve is opened during current supply. In the event of a crash there is no active power supply to the fuel tank isolation valve (it remains closed) and no fault memory entry is set by the TFE. This does not prevent subsequent refuelling of the vehicle or other functions (purging, etc.) as long as the components involved (e.g. pressure-temperature sensor) are undamaged.
Fuel tank non-return valve
The fuel tank shutoff valve is additionally used for US version vehicles. This is necessary to perform legally required tank leak diagnosis. The fuel tank shutoff valve is closed when power is supplied.
Pressurized fuel tank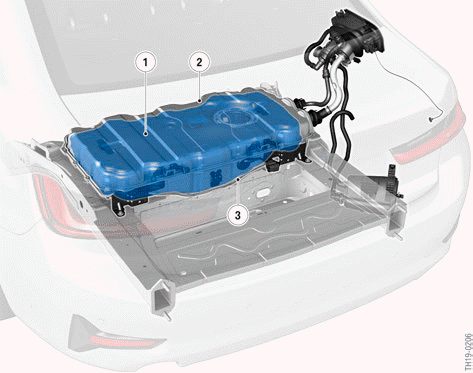 G20 PHEV pressurized fuel tank
Pressurized fuel tank made from stainless steel
Cast aluminum upper housing section
Cast aluminum lower housing section
The G20 PHEV has the high-voltage battery unit in the normal fuel tank packaging space (below the rear seat bench). This has lowered the center of gravity, and the luggage compartment can be used more efficiently (flat loading floor, through-loading system). The pressurized fuel tank with a fuel tank capacity of 40 liters was integrated below the luggage compartment. It is located in a cast aluminum housing which is mounted to the body. The housing improves the body stiffness and crash performance.
READ NEXT:
G20 PHEV, system wiring diagram for fuel supply Integrated supply module Digital Motor Electronics (DME) Shutoff valve purge air line (only for US version) Body Domain Controller (BDC) Fue
The pressurized fuel tank must be vented before refuelling. To initiate the refuelling procedure, the button in the driver's door first needs to be operated. The button is not active when the vehicl
SEE MORE:
General information The battery is maintenance-free. More information about the battery can be requested from a dealer's service center or another qualified service center or repair shop. Safety information Warning Vehicle batteries that are not compatible can damage vehicle systems and impair veh
General information LATCH: Lower Anchors and Tether for Children. Pay attention to the specifications and the operating and safety information from the child restraint system manufacturer when selecting, installing, and using LATCH child restraint fixing systems. Mounts for the lower LATCH anchors