BMW 3: Separation clutch
The G20 PHEV is a Full-Hybrid Generation 4.0 vehicle. In contrast to generation 2 and 3 hybrid vehicles, electrical driving is possible in the G20 PHEV at much higher speeds and with a higher range.
Similar to the GA8P70HZ transmission, the combustion engine is also disconnected from the electrical machine and the rest of the drivetrain via a separation clutch. In the G20 PHEV this separation clutch is arranged between the additional torsional vibration damper and the electrical machine.
The separation clutch is integrated in the housing of the electrical machine. It is designed as a wet multidisc clutch in open version, thus optimizing the friction losses. It is used in order to disconnect the combustion engine from the electrical machine and the rest of the drivetrain in certain operating conditions. This is carried out for example in fully electric driving and when "coasting".
The separation clutch boasts extreme accuracy so as not to feel the connection and disconnection of the combustion engine. As soon as the separation clutch is closed, the electrical machine, transmission input shaft and the combustion engine rotate at the same speed.
Cooling of the separation clutch is performed by the transmission oil.
The separation clutch is, like all clutches and multidisc brakes of the automatic transmission, operated by the mechatronics module. It is opened in a depressurized state. To close the clutch, transmission oil pressure is required. This is generally provided by the mechanical transmission oil pump. In exceptional cases, e.g. failure of the electrical machine, the separation clutch can also be closed via the auxiliary electric oil pump. However, this is performed with a loss of comfort.
As the mechanical oil pump is powered by the electrical machine when the separation clutch is open, the separation clutch cannot be closed in case of an electrical machine failure at a transmission oil temperature below 5 ºF (-15 ºC); thus no starting process can take place.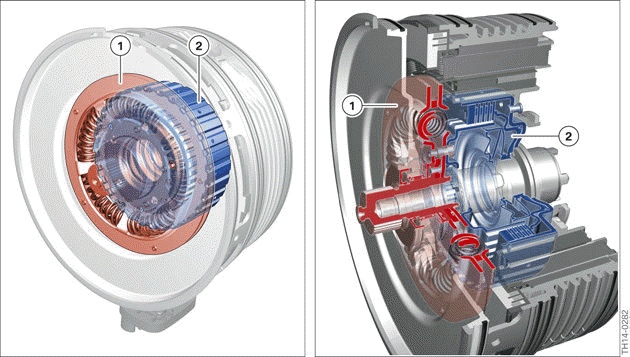 Separation clutch of the GA8P75HZ transmission
Additional torsional vibration damper
Separation clutch
Similar to torque converters in conventional transmissions, the separation clutch in the G20 PHEV is able to disconnect from the combustion engine and the rest of the drivetrain by micro-slip control of rotational irregularities. The acoustic comfort in the vehicle is significantly improved at very low engine speeds.
Additional torsional vibration damper
The unequal running and the resulting vibrations of the 4-cylinder gasoline engine may cause strong droning or rattling noises at certain speeds and operating conditions. To isolate these vibrations, a torsional vibration damper in addition to the dual-mass flywheel is used in front of the electrical machine. The torsional vibration damper establishes the mechanical connection between the dual- mass flywheel of the combustion engine and separation clutch.
READ NEXT:
To guarantee the thermal operating safety of the electrical machine in every situation, it is cooled with coolant in the G20 PHEV. For this, the electrical machine is integrated in the coolant
The Electrical Machine Electronics (EME) is primarily used as control electronics for the electrical machine. It is also responsible for converting the direct current voltage from the high-voltage b
SEE MORE:
Concept The Integrated Owner's Manual specifically describes features and functions found in the vehicle. The Integrated Owner's Manual can be displayed on the Control Display. Selecting the Owner's Manual 1. Press the button. 2. "CAR". 3. "Owner's Manual". 4. Select the desired method of access
General information If the driver's door is opened when the drive-ready state is switched off, the exterior lighting is automatically switched off. Parking lights General information The parking lights can only be switched on in the low speed range. Switching on Press the button on the light switch