BMW 3: Rotor and stator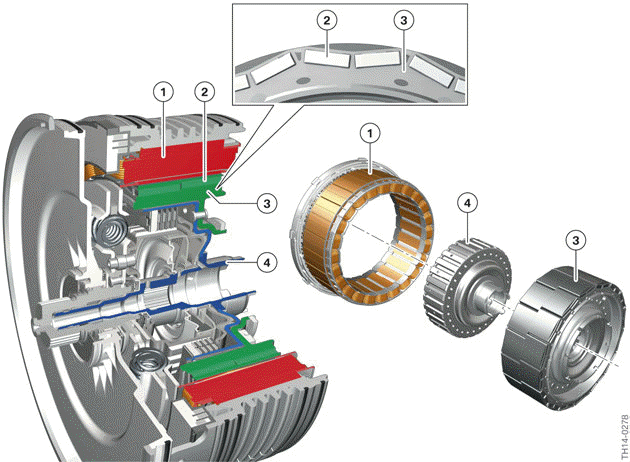 Rotor and stator, electrical machine
Stator
Permanent magnets
Rotor
Hollow shaft with outer basket of separation clutch
The electrical machine in the G20 PHEV is structured as an inner rotor. "Inner rotor" means that the rotor is arranged with the permanent magnets arranged in a ring shape on the inside. The coils for generating the rotating field are located on the outside and form the stator. The electrical machine has 8 pole pairs.
The rotor is mounted above a flange on the rotor hollow shaft, which is positively connected to the transmission input shaft.
READ NEXT:
Connections, electrical machine Transmission bell housing Temperature sensor Coolant ducts Connection for coolant (transmission oil) Electrical connection, rotor position sensor High-voltage c
Sensors, electrical machine Temperature sensor Rotor of the rotor position sensor Stator of the rotor position sensor So that the voltages for the coils in the stator can be correctly calculated
The G20 PHEV is a Full-Hybrid Generation 4.0 vehicle. In contrast to generation 2 and 3 hybrid vehicles, electrical driving is possible in the G20 PHEV at much higher speeds and with a higher range.
SEE MORE:
Concept The Integrated Owner's Manual specifically describes features and functions found in the vehicle. The Integrated Owner's Manual can be displayed on the Control Display. Selecting the Owner's Manual 1. Press the button. 2. "CAR". 3. "Owner's Manual". 4. Select the desired method of access
General information Points of Interest are destinations that can be helpful while driving. Points of Interest such as restaurants, hotels, gas stations, or charging stations, can be added as destinations. Even when the navigation data is current, information regarding particular Points of Interest