BMW 3: Connections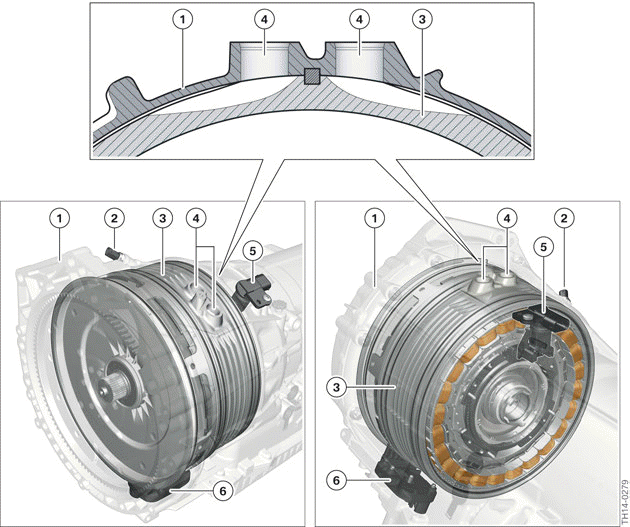 Connections, electrical machine
Transmission bell housing
Temperature sensor
Coolant ducts
Connection for coolant (transmission oil)
Electrical connection, rotor position sensor
High-voltage connection
There are four connections of the electrical machine on the housing of the automatic transmission for the following components:
Temperature sensor
Cooling (by transmission oil)
Rotor position sensor
High-voltage cables
High-voltage connection

High-voltage connection, electrical machine
High-voltage connection
High-voltage connector
Electrical energy is fed to the coils of the electrical machine via the high-voltage connection. The high- voltage connection connects the Electrical Machine Electronics to the electrical machine via a three- phase, shielded high-voltage cable.
The high-voltage connectors are screwed on to the Electrical Machine Electronics and the electrical machine.

High-voltage cables must not be repaired. In the event of damage, the line must always be replaced!
READ NEXT:
Sensors, electrical machine Temperature sensor Rotor of the rotor position sensor Stator of the rotor position sensor So that the voltages for the coils in the stator can be correctly calculated
The G20 PHEV is a Full-Hybrid Generation 4.0 vehicle. In contrast to generation 2 and 3 hybrid vehicles, electrical driving is possible in the G20 PHEV at much higher speeds and with a higher range.
To guarantee the thermal operating safety of the electrical machine in every situation, it is cooled with coolant in the G20 PHEV. For this, the electrical machine is integrated in the coolant
SEE MORE:
Electronic emergency gearbox release As with the conventional 8-speed automatic transmission, the GA8P75HZ also has an electrical emergency release option. In conventional vehicles the starter motor rotates for this, and also drives the mechanical transmission oil pump via the torque converter. W
The Electrical Machine Electronics supplies voltage not only to the electrical machine. The convenience charging electronics are directly connected with the Electrical Machine Electronics and ensure the voltage supply at high-voltage level to the electric A/C compressor and electrical heating. H