BMW 3: Lights and lighting
Switches in the vehicle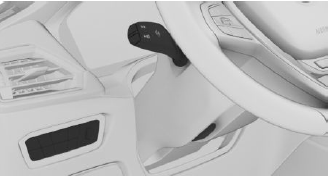 The light switch element is located next to the steering wheel.

Front fog lights.

Lights off.
Daytime running lights.

Parking lights.

Automatic headlight control.
Adaptive light functions.

Low beams.

Instrument lighting.

Right roadside parking light.

Left roadside parking light.
Automatic headlight control
Concept
The low beams are switched on and off automatically depending on the ambient brightness, for example in tunnels, in twilight or if there is precipitation.
General information
A blue sky with the sun low on the horizon can cause the lights to be switched on.
If the low beams are switched on manually, the automatic headlight control is deactivated.
Activating

Press the button on the light switch element.
The LED in the button lights up.

The indicator light in the instrument cluster is illuminated when the low beams are switched on.
System limits
The automatic headlight control cannot serve as a substitute for your personal judgment of lighting conditions.
For example, the sensors are unable to detect fog or hazy weather. In these situations, switch the lights on manually.
READ NEXT:
General information If the driver's door is opened when the drive-ready state is switched off, the exterior lighting is automatically switched off. Parking lights General information The parking light
General information Depending on the equipment, the exterior lighting of the vehicle can be set individually. Activating/deactivating Via iDrive: 1. "CAR". 2. "Settings". 3. "Exterior lighting". 4.
Concept Adaptive light functions enable dynamic illumination of the roadway. General information The adaptive light functions may consist of one system or multiple systems, depending on the equipment
SEE MORE:
Concept The vehicle can be accessed without operating the vehicle key. Carrying the vehicle key with you, e.g., in your pants pocket, is sufficient. The vehicle automatically detects the vehicle key when it is in close proximity or in the car's interior. Unlocking the vehicle Grasp the handle of
Concept The Concierge service offers information on events, gas stations or hotels, and provides phone numbers and addresses. A voice connection to the Concierge service is established for this purpose. Many hotels can be booked directly by the BMW Concierge service. The Concierge service is part of