BMW 3: Terminal control for driving readiness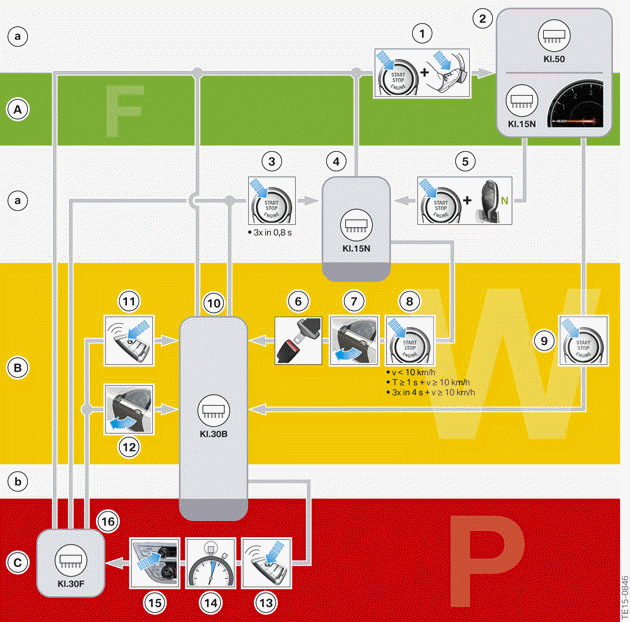 Terminal control from driver's view
Vehicle condition - DRIVING
Vehicle condition - RESIDING
Vehicle condition - PARKING
Transitional condition for establishing driving readiness, ending driving readiness or Check/Analysis/Diagnosis
Transitional condition with stationary functions
Actuation of the start/stop button + brake pedal + valid ID transmitter in the vehicle interior
Driving readiness established, terminal 15N (terminal 50)
Actuation of start/stop button (three times within 0.8 s) + valid ID transmitter in the vehicle interior
Terminal 15N
Operation of start/stop button + selector lever in Neutral
Undoing driver's seat belt (v < 0.1 km/h (.2 mph), driver's door opened, selector lever not in Neutral, brake not pressed, low beam off, no OBD communication, no diagnosis mode, no assembly mode)
Door contact change (v < 0.1 km/h (6 mph), driver's seat belt undone, selector lever not in Neutral, brake not pressed, low beam off, no OBD communication, no diagnosis mode, no assembly mode)
Press start/stop button + vehicle is stationary or press start/stop button for at least 1 s + driving speed ≥ 10 km/h (6 mph) or press start/stop button at least three times within 4 s + driving speed ≥ 10 km/h (.2 mph)
Press START/STOP button
Terminal 30B
Unlock vehicle
Residing interaction or stationary function interaction
Locks vehicle
No customer interaction for three minutes
Extended press of head unit media button
Terminal 30F
Driving readiness is activated if there is a valid ID transmitter in the vehicle interior, and the brake pedal and START/STOP button are pressed simultaneously. Driving readiness can be activated from any terminal status (terminal 30F terminal 30B and terminal 15). Driving readiness is indicated to the driver by the needle of the eDRIVE display. Here the needle is at "READY".
With the status "Driving readiness" the vehicle can be driven off using the electrical drive or a combustion engine depending on the torque requirement. In comparison to the conventional vehicle with a single powertrain by the combustion engine, the driving readiness in a hybrid car cannot be recognized at the running combustion engine. The prerequisites for non-start of the combustion engine, the so-called "silent start", are a sufficiently charged high-voltage battery unit and activated hybrid or electric mode.
Driving readiness is deactivated by pressing the START/STOP button when the vehicle is stationary.
The drive position "P" is automatically engaged in the process. The car wash function is an exception to this: If the driver engages the drive position "N" when the driving readiness is switched on and then presses the START/STOP button, the drive position "N" remains engaged and terminal 15 remains switched on.
READ NEXT:
The bus systems of the G20 PHEV are based on the bus systems of the G20. All the main and sub-bus systems of the G20 are also used in the G20 PHEV. Compared to the bus systems of the G20,
The representation of the individual bus systems and their designations have been adapted to the representation and the designation of the ISTA workshop information system. The following table provi
Compared with the G20, a number of new control units have been installed in the G20 PHEV.
SEE MORE:
General information Depending on the equipment version, interior lights, footwell lights, entry lights, ambient lighting, and speaker lighting are automatically controlled. Overview Buttons in the vehicle Interior lights Reading lights Switching the interior lights on/off Press the button. To swi
In the vicinity of the steering wheel Light switch element Turn signal indicator, high beams Instrument cluster Wipers Indicator/warning lights Instrument cluster The indicator/warning lights can light up in a variety of combinations and colors. Several of the lights are checked for proper f