BMW 3: Split screen
Concept
Additional information for the navigation can be displayed in the right part of the split screen.
Switching on/off
1.

Press the button on the Controller.
2. Move the Controller to the right.
3.

"Split screen".
4. "Split screen"
Selecting the display
1.

Press the button on the Controller.
2. Move the Controller to the right.
3.

"Split screen".
4. Select the desired setting.
Route preview
Concept
If destination guidance is active, the destination guidance hints can be displayed as list in the split screen.
General information
In the case of multi-lane roads, lane information may indicate the recommended lanes.
The current vehicle position can also be displayed in the lane information Depending on the country-specific version, the display may deviate from what is depicted.
Display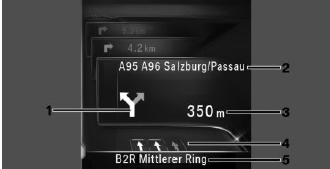 Turn information
Upcoming street
Distance to maneuver
Lane information
Current road
READ NEXT:
General information Navigation data is stored in the vehicle and can be updated from a USB storage device. Current navigation data is available from a dealer's service center or another qualified ser
Concept Depending on the equipment, Points of Interest and addresses can be searched for by entering a sequence of letters or by searching in the navigation data stored in the vehicle. All entries ar
SEE MORE:
Engine housing Cylinder head The cylinder head is made of aluminum. Only slight modifications have been made to the B46TU head compared to the B46. Cylinder head Crankshaft drive Crankshaft Comparison B46 crankshaft with B46TU crankshaft The crankshaft of the B46TU engine have been revised. Materi
Concept The emergency wheel and any related components can be temporarily removed to enlarge the cargo area. Removing the emergency wheel and the storage compartments 1. To remove the cargo area floor, pull it upward directly behind the rear backrests. 2. Remove tool holder and emergency wheel. 3.