BMW 3: Programmable memory buttons
General information
The iDrive functions can be stored on the programmable memory buttons and called up directly, for instance radio stations, navigation destinations, phone numbers and menu entries or pages in the Integrated Owner's Manual.
Settings are stored for the driver profile currently used.
Overview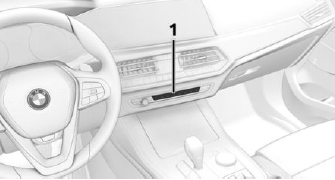 Programmable memory buttons
Storing a function
A function can be stored on a programmable memory button. A button with a stored function can be overwritten with another function.
1. Select function via iDrive.
2.

Press and hold the desired button until the displayed bar on the Control Display has loaded completely.
Executing a function

Press the button.
The function will work immediately. This means, for instance that the number is dialed when a phone number is selected.
Displaying the key assignment
Touch buttons with finger. Do not wear gloves or use objects.
The button assignment is displayed at the top edge of screen.
Deleting all button assignments
All button assignments can be deleted.
1. Press and hold buttons 1 and 8 at the same time.
2. "OK".
READ NEXT:
Concept The iDrive functions are displayed on the Control Display. The Control Display can be operated using the Controller, touchpad, and touch screen. Overview Control Display with touchscreen C
Safety information NOTICE Objects in the area in the front of the Control Display can shift and damage the Control Display. There is a risk of damage to property. Do not place objects in the area in
General information The buttons can be used to open the menus directly. The Controller can be used to select menu items and enter the settings. Some iDrive functions can be operated using the touchp
SEE MORE:
Concept The vehicle will be unlocked when the driver approaches the locked vehicle with the vehicle key. When the driver walks away from the unlocked vehicle with the vehicle key, the vehicle will be locked. General information The vehicle will be unlocked when an authorized vehicle key is detected
Concept The wireless charging tray enables the following functions to be performed without cables: Charging the rechargeable battery of a mobile phone with Qi capability and of other mobile devices, which support the Qi standard. Charge the BMW Display key, see Owner's Manual for the vehicle.