BMW 3: Malfunction
General information
A Check Control message is displayed.
Vehicle key recognition by the vehicle may malfunction under the following circumstances:
The battery of the vehicle key is discharged.
Interference of the radio connection from transmission towers or other equipment with high transmitting power.
Shielding of the vehicle key due to metal objects.

Do not transport the vehicle key together with metal objects.

Interference of the radio connection from mobile phones or other electronic devices in direct proximity to the vehicle key.

Do not transport the vehicle key together with electronic devices.

Interference of radio transmission by a charging process of mobile devices, for instance charging of a mobile phone.
The vehicle key is in direct proximity of the wireless charging tray.

Place the vehicle key in a different location.
In the case of interference, the vehicle can be unlocked and locked from the outside with the integrated key.
Switching the drive-ready state on via emergency detection of the vehicle key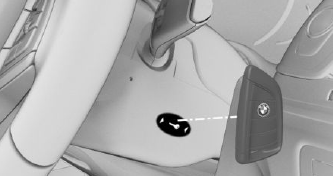 It is not possible to switch on the drive-ready state if the vehicle key has not been detected.
Proceed as follows in this case:
1. Hold the back of the vehicle key against the marked area on the steering column. Pay attention to the display in the instrument cluster.
2. If the vehicle key is detected: Switch on drive-ready state within 10 seconds.
If the vehicle key is not recognized, slightly change the position of the vehicle key and repeat the procedure.
Frequently Asked Questions
What precautions can be taken to be able to open a vehicle with an accidentally locked in vehicle key?
The options provided by the Remote Services of the BMW Connected app include the ability to lock and unlock a vehicle.

This requires an active BMW Connected‐ Drive contract and the BMW Connected app must be installed on a smartphone.

Unlocking the vehicle can be requested via the BMW ConnectedDrive Call Center.

An active BMW ConnectedDrive contract is required.
READ NEXT:
General information The driver's door can be locked and unlocked without the vehicle key using the integrated key. The integrated key also fits the glove compartment. Safety information Warning For
General information In the event of a severe accident, the vehicle is automatically unlocked. The hazard warning system and interior lights come on. Overview Buttons for the central locking system. L
Concept The vehicle can be accessed without operating the vehicle key. Carrying the vehicle key with you, e.g., in your pants pocket, is sufficient. The vehicle automatically detects the vehicle key
SEE MORE:
Unlocking Locking Opening the trunk lid Press and hold or press three times in quick succession: panic mode Press briefly: headlight courtesy delay feature Unlocking the vehicle Press the button on the vehicle key. Depending on the settings, either only the driver's door or all vehicle ac
Concept The Driving Dynamics Control influences the driving dynamics properties of the vehicle. The vehicle can be adjusted depending on the situation using various driving modes. General information The following systems are affected, for instance: Engine characteristics. Steptronic transmissio