BMW 3: Integrated key
General information
The driver's door can be locked and unlocked without the vehicle key using the integrated key.
The integrated key also fits the glove compartment.
Safety information
Warning For some country versions, unlocking from the inside is only possible with special knowledge.
Persons who spend a lengthy time in the vehicle while being exposed to extreme temperatures are at risk of injury or death. Do not lock the vehicle from the outside when there are people in it.
NOTICE
The door lock is permanently joined with the door. The door handle can be moved. When pulling the door handle with the integrated key inserted, paint or the integrated key can be damaged. There is a risk of damage to property.
Remove the integrated key before pulling the outside door handle.
Removing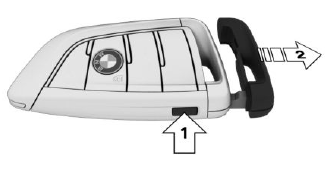 Press the button, arrow 1, and pull out the integrated key, arrow 2.
Locking/unlocking via the door lock
1. Pull and hold the door handle outward with one hand.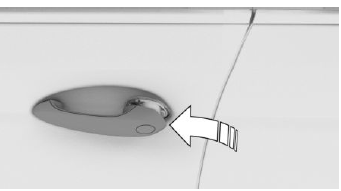 2. Guide one finger of your other hand from the back under the cover and push the cover out.
Use the thumb for counter support to prevent the cover from falling out of the door handle.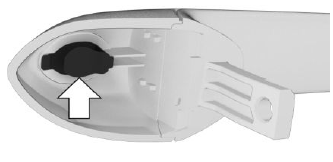 3. Remove the cover.
4. Unlock or lock the door lock using the integrated key.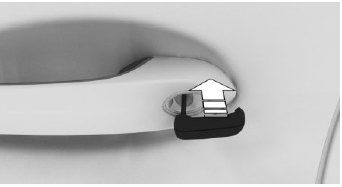 The other doors must be unlocked or locked from the inside.
Alarm system
The activated alarm system is triggered when the door is opened, if the vehicle has been unlocked via the door lock.
The alarm system is not switched on if the vehicle is locked with the integrated key.
READ NEXT:
General information In the event of a severe accident, the vehicle is automatically unlocked. The hazard warning system and interior lights come on. Overview Buttons for the central locking system. L
Concept The vehicle can be accessed without operating the vehicle key. Carrying the vehicle key with you, e.g., in your pants pocket, is sufficient. The vehicle automatically detects the vehicle key
General information The behavior of the vehicle during unlocking via the Comfort Access depends on the following settings: If the unlocking of the vehicle is confirmed with a light signal or a soun
SEE MORE:
To increase the service life of the high-voltage battery unit and obtain the greatest possible power, it is operated in a defined temperature range. The high-voltage battery unit is essentially operational at an ambient temperature of -40 ºF to 131 ºF (-40 ºC to +55 ºC ) (actual cell
Concept Pressing the Start/Stop button switches drive-ready state on or off. Steptronic transmission: the drive-ready state is switched on when you depress the brake pedal while pressing the Start/Stop button. Pressing the Start/Stop button again switches drive-ready state back off and standby sta