BMW 3: Input and display
Main menu
General information
The main menu is divided into two areas. The left area contains menu items that can be used to call up all the iDrive functions. The right area contains widgets that provide quick access to certain functions.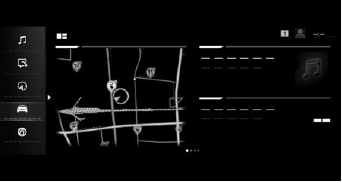 Media/Radio

All functions of the entertainment system, e.g., radio and TV stations, connection with external devices and music collection.
Communication

Phone and message functions, e-mail and calendar, and also the connection and management of mobile devices, such as smartphones.
Navigation

Access to the navigation system, destination input and traffic bulletins. Configurable map views and other functions, such as Points of Interest and areas to be avoided.
My Car

Information about vehicle status and trips.
Access to the Integrated Owner's Manual and also administration of driver profiles and range of adjustments for vehicle and iDrive.
Apps

Management and access to apps and vehicle functions. Additional apps can be purchased from the BMW Store.
Widgets

Widgets provide quick access to frequently used functions. The configured widgets display dynamic contents such as the navigation map, and serve as interfaces at the same time.
Letters and numbers
Letters and numbers can be selected when the destination is entered, for example.
Letters and numbers can be entered using the Controller and, depending on the equipment version, via touchscreen, voice activation system or gesture control. The keyboard's display changes automatically.

Change between capital and lower-case letters.

Enter a blank space.

Use voice activation.

Confirm entry.

Slide the input area to the left or right.
Entry comparison
When entering names and addresses, the choice is narrowed down with every letter and number and added automatically as needed.
Entries are continuously compared with data stored in the vehicle.
Only those letters and numbers are offered during entry for which data is available.
Destination search: place names can be entered in all languages that are available in iDrive.
Activating/deactivating the functions
Several menu items are preceded by a checkbox.
The checkbox indicates whether the function is activated or deactivated. Selecting the menu item activates or deactivates the function.

Function is activated.

Function is deactivated.
Status information
General information
The status field can be found in the upper area of the Control Display. Status information is displayed in the form of symbols.
Radio symbols

HD Radio station is being received.

Satellite radio is switched on.
Telephone symbols

Incoming or outgoing call.

Missed call.

Signal strength of cellular network.

Network search.

Cellular network is not available.

The critical charge state of the mobile phone has been reached.

Roaming is active.

Locating is active.

SMS text message received.

Message received.

Reminder.

Sending not possible.
Entertainment symbols

Bluetooth audio.

USB audio interface.

WiFi.
Other symbols

Check Control message.

The sound output has been switched off.

Request for the current vehicle position.

Checking the current vehicle position.

Driver profile.

Messages.

Service requirements.

Information.

Stop.

Data protection.
READ NEXT:
General information The iDrive functions can be stored on the programmable memory buttons and called up directly, for instance radio stations, navigation destinations, phone numbers and menu entries o
Concept The iDrive functions are displayed on the Control Display. The Control Display can be operated using the Controller, touchpad, and touch screen. Overview Control Display with touchscreen C
Safety information NOTICE Objects in the area in the front of the Control Display can shift and damage the Control Display. There is a risk of damage to property. Do not place objects in the area in
SEE MORE:
Changing the entertainment source Sound output on/off, volume Programmable memory buttons Changing the station/track Waveband/satellite radio Navigation destination entry Entering a destination via quick search 1. Press the button on the Controller. 2. "Where to?" 3. Enter at least two let
The anticipatory hybrid drive has been revised and enhanced with the G20 PHEV. The driver can find this function under "Anticipatory hybrid drive" in the vehicle literature and the vehicle's integrated owner's manual. Here, with active route guidance by the navigation system the route is ana