BMW 3: DTC Dynamic Traction Control
Concept
DTC is a version of the DSC Dynamic Stability Control where forward momentum is optimized.
The system ensures maximum headway on special road conditions or loose road surfaces, for instance unplowed snowy roads, but with somewhat limited driving stability.
General information
When DTC is activated, the vehicle has maximum traction. Driving stability is limited during acceleration and when driving in curves.
You may find it useful to briefly activate DTC in the following situations:
When driving in slush or on uncleared, snow-covered roads.
When driving off from deep snow or loose ground.
When driving with snow chains.
Overview
Button in the vehicle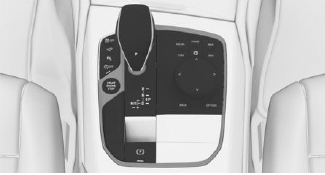 DSC OFF
Activating/deactivating DTC
Activating DTC

Press the button.
TRACTION is displayed in the instrument cluster and the indicator light for DSC OFF lights up.
Deactivating DTC

Press the button again.
TRACTION and the DSC OFF indicator light go out.
Display
Display in the instrument cluster
If DTC is activated, TRACTION is displayed in the instrument cluster.
Indicator/warning lights

The indicator light lights up: DTC is activated.
Automatic program change
In certain situations, the DSC is activated automatically:
If Active Cruise Control with Stop&Go function ACC is activated.
On a braking intervention by the Intelligent Safety systems.
The vehicle has a flat tire.
READ NEXT:
Concept xDrive is the all-wheel-drive system of the vehicle. The interaction of xDrive and other suspension control systems, such as DSC Dynamic Stability Control, further optimizes traction and driv
Concept The system can be used to set a speed limit, for instance to prevent the vehicle from exceeding speed limits. General information The system can limit the speed, starting at a value of 20 mph/
SEE MORE:
Concept With the Mobility System, minor tire damage can be sealed temporarily to enable continued travel. To accomplish this, sealant is pumped into the tires, which seals the damage from the inside. General information Follow the instructions on using the Mobility System found on the compressor
The basic functions of the oil circuit of the GA8P75HZ transmission correspond to those of the GA8HP70Z transmission. The oil has the following tasks: Lubrication Control of the shift elements Cooling It is a conventional pressure circulating system. In addition to the mechanical transmission