BMW 3: Tire tread
Summer tires
Do not drive with a tire tread of less than 0.12 in/3 mm, otherwise there is an increased risk of hydroplaning.
Winter tires
Do not drive with a tire tread of less than 0.16 in/4 mm, as such tires are less suitable for winter operation.
Minimum tread depth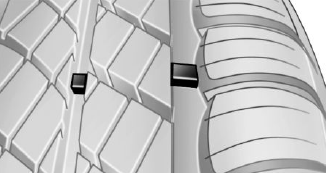 Wear indicators are distributed around the tire's circumference and have the legally required minimum height of 0.063 inches/1.6 mm.
The positions of the wear indicators are marked on the tire sidewall with TWI, Tread Wear Indicator.
Tire damage
General information
Inspect your tires regularly for damage, foreign objects lodged in the tread, and tread wear.
Driving over rough or damaged road surfaces, as well as debris, curbs and other obstacles can cause serious damage to wheels, tires and suspension parts. This is more likely to occur with low-profile tires, which provide less cushioning between the wheel and the road. Be careful to avoid road hazards and reduce your speed, especially if your vehicle is equipped with low-profile tires.
Indications of tire damage or other vehicle malfunctions:
Unusual vibrations.
Unusual tire or running noises.
Unusual handling such as a strong tendency to pull to the left or right.
Damage can be caused by the following situations, for instance:
Driving over curbs.
Road damage.
Tire inflation pressure too low.
Vehicle overloading.
Incorrect tire storage.
Safety information
Warning Damaged tires can lose tire inflation pressure, which can lead to loss of vehicle control. There is a risk of accident. If tire damage is suspected while driving, immediately reduce speed and stop. Have wheels and tires checked. For this purpose, drive carefully to the nearest dealer's service center or another qualified service center or repair shop. Have vehicle towed or transported as needed. Do not repair damaged tires, but have them replaced.
Warning Tires can become damaged by driving over obstacles, e.g., curbs or road damage, at high speed. Larger wheels have a smaller tire crosssection.
The smaller the tire cross-section, the higher the risk of tire damage. There is a danger of accidents and property damage. If possible, avoid driving over objects or road conditions that may damage tires, or drive over them slowly and carefully.
READ NEXT:
Mounting and wheel balancing Have mounting and wheel balancing carried out by a dealer's service center or another qualified service center or repair shop. Wheel and tire combination General informati
Concept Run-flat tires permit continued driving under restricted conditions even in the event of a complete loss of tire inflation pressure. General information The wheels consist of tires that are se
Concept With the Mobility System, minor tire damage can be sealed temporarily to enable continued travel. To accomplish this, sealant is pumped into the tires, which seals the damage from the inside.
SEE MORE:
Concept Compatible devices with WiFi interface can use the Internet connection of the vehicle via the WiFi hotspot. General information Up to 10 devices can be connected to the WiFi hotspot simultaneously. Functional requirements Compatible device, with activated WiFi interface. WiFi is activate
Symbols used The following symbol is used in this document to facilitate better comprehension or to draw attention to very important information: Contains important safety information and information that needs to be observed strictly in order to guarantee the smooth operation of the system. Orig