BMW 3: Run-flat tires
Concept
Run-flat tires permit continued driving under restricted conditions even in the event of a complete loss of tire inflation pressure.
General information
The wheels consist of tires that are self-supporting, to a limited degree, and possibly special rims.
The support of the sidewall allows the tire to remain drivable to a restricted degree in the event of a tire inflation pressure loss.
Follow the instructions for continued driving with a flat tire.
Safety information
Warning Your vehicle handles differently with a run-flat tire with no or low inflation pressure; for instance, your lane stability when braking is reduced, braking distances are longer and the self-steering properties will change. There is a risk of accident. Drive moderately and do not exceed a speed of 50 mph/80 km/h.
Label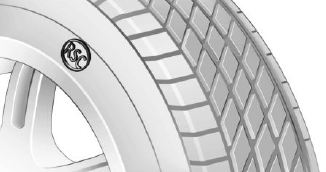 The tires are marked on the tire sidewall with RSC Run-flat System Component.
Repairing a flat tire
Safety measures
Park the vehicle as far away as possible from passing traffic and on solid ground.
Switch on the hazard warning system.
Secure the vehicle against rolling away by setting the parking brake.
Turn the steering wheel until the front wheels are in the straight-ahead position and engage the steering wheel lock.
Have all vehicle occupants get out of the vehicle and ensure that they remain outside the immediate area in a safe place, such as behind a guardrail.
If necessary, set up a warning triangle at an appropriate distance.
READ NEXT:
Concept With the Mobility System, minor tire damage can be sealed temporarily to enable continued travel. To accomplish this, sealant is pumped into the tires, which seals the damage from the inside.
Safety information Warning With the mounting of snow chains on unsuitable tires, the snow chains can come into contact with vehicle parts. There may be a risk of accident or risk of damage to propert
SEE MORE:
ABS prevents locking of the wheels during braking. The vehicle maintains its steering power even during full brake applications, thus increasing active safety. ABS is operational every time you start the engine. Brake assistant When you apply the brakes rapidly, this system automatically boosts th
Concept The high-beam Assistant detects other traffic participants early on and automatically switches the high beams on or off depending on the traffic situation. General information The high-beam Assistant ensures that the high beams are switched on, whenever the traffic situation allows. In the l