BMW 3: Steptronic transmission
Engaging selector lever position D, N, R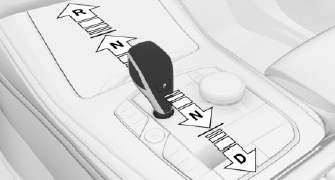 Drive mode D.
Neutral N.
R is reverse.
With the driver's safety belt fastened, briefly push the selector lever in the desired direction, past a resistance point, if needed. The selector lever returns to the center position in each case.
To prevent the vehicle from creeping after you select a drive mode or reverse, maintain pressure on the brake pedal until you are ready to start.
A selector lever lock prevents the inadvertent shifting to selector lever position R or the inadvertent shifting from selector lever position P.
Engage selector lever position R only when the vehicle is stationary.
Releasing the selector lever lock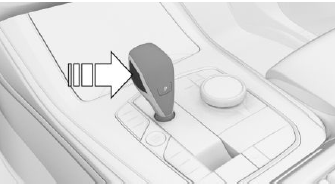 Press the button.
Engaging P
Engage selector lever position P only when the vehicle is stationary.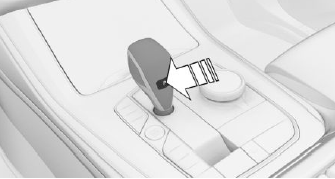 Press button P.
Steptronic transmission, Sport program and manual mode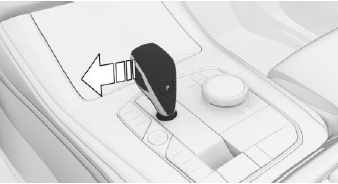 Activate the Sport program/manual mode: Press the selector lever to the left from selector lever position D.
Manual mode:
To shift down: press the selector lever forward.
To shift up: pull the selector lever rearwards.
End the sport program/manual mode: Push the selector lever to the right.
READ NEXT:
High beams, headlight flasher Push the lever forward or pull it backward. High beams on, arrow 1. The high beams light up when the low beams are switched on. High beams off/headlight flasher, ar
Switching the wipers on/off and brief wipe Switching on Press the lever up until the desired position is reached. Resting position of the wipers: position 0. Rain sensor: position 1. Normal wiper
Automatic climate control Temperature. Recirculated-air mode. Maximum cooling. AUTO program. Air distribution, manual. Switching off. Defrost and defog the windshield. Rear window defroster.
SEE MORE:
If another vehicle key or another digital key is to be assigned to a driver profile, the current assignment must be canceled first. Via iDrive: 1. "CAR". 2. "Driver profiles". 3. Move the Controller to the right. As an alternative for Steps 1 to 3, the profile image can be tapped in the top stat
A driver profile is created or via iDrive: 1. "CAR". 2. "Driver profiles". 3. Move the Controller to the right. As an alternative for Steps 1 to 3, the profile image can be tapped in the top status bar. 4. "Add driver profile". ConnectedDrive countries: An existing ConnectedDrive account must b