BMW 3: Regenerative braking
The regenerative braking makes possible brake energy regeneration. The electrical machine works here as an alternator and brakes the gears via automatic transmission - propeller shaft - rear axle differential - output shafts. The high-voltage battery unit is charged with the energy generated here via the Electrical Machine Electronics.
A brake pedal angle sensor directly at the brake pedal records the path of the brake pedal.
The free travel of the brake pedal has also been increased. In the event of brake actuation, braking is therefore purely regenerative in this range without hydraulic brake pressure. The brake pads of the wheel brakes are only applied at the brake discs in this operating condition. However, they do not generate braking power. This increases the efficiency of the drive, as more usable energy can be fed back into the high-voltage battery unit.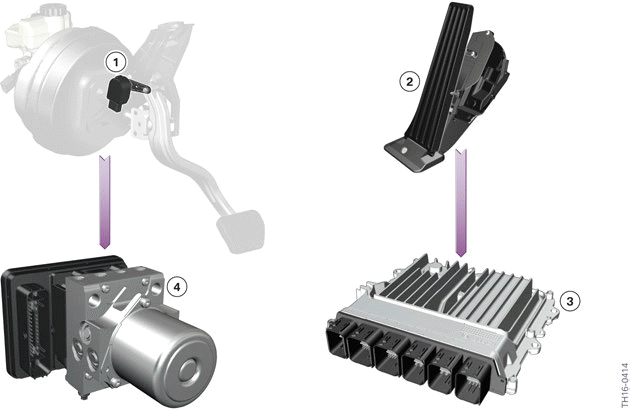 Components for input signals of brake energy regeneration
Brake pedal with brake pedal angle sensor
Accelerator pedal module
Digital Motor Electronics (DME)
Dynamic Stability Control (DSC)
Decisive input variables for regenerative braking are the accelerator pedal angle and the brake pedal travel.
The brake pedal angle is measured by the brake pedal angle sensor, converted to brake pedal travel and read in by the Dynamic Stability Control.
The accelerator pedal angle is measured by the accelerator pedal module and read in by the DME.
The electrical machine is operated as an alternator when the brake pedal is not operated but the accelerator pedal is at an angle of 0º. The Electrical Machine Electronics activates the electrical machine in such a way that a brake force is obtained for the complete vehicle which corresponds to a conventional vehicle in coasting (overrun) mode. Depending on the driving mode selected, the deceleration which occurs during the coasting energy recovery is different.
READ NEXT:
Regenerative braking with help of the drivetrain only effects the rear axle. The brake force on the rear axle must not exceed a specific value in proportion to that on the front axle. This would oth
The 12 V vehicle electrical system of the G20 PHEV is essentially the same as the electrical system of the G20. The main difference lies in the fact that the power supply is no longer by the al
SEE MORE:
General information The technical data and specifications in the Owner's Manual are used as guidance values. The vehicle-specific data can deviate from this, for instance due to the selected special equipment, country version or country-specific measurement method. Detailed values can be found in t
Concept Using this system, a desired speed and a distance to a vehicle ahead can be adjusted using the buttons on the steering wheel. The system maintains the desired speed on clear roads. For this purpose, the vehicle accelerates or brakes automatically. If a vehicle is driving ahead of you, the