BMW 3: General information
Rear entertainment allows occupants in the rear to access entertainment sources regardless of the driver's selection. Two screens, different media connections, and a CD/DVD/Blu-ray drive are available in the rear for this purpose.
Rear entertainment also provides access to many iDrive functions.
The sound can be output via headphones or the vehicle's loudspeakers.
Different entertainment sources can be selected on the screens.
Radio stations.

One radio station can be played in the vehicle only.

Music hard disk.

Different titles can be played from the music hard disk.

CD/DVD/Blu-ray drive in the rear.
USB port in the front.
USB port in the rear.
HDMI/MHL connection in the rear.
Bluetooth connection.
Screen Mirroring.
Screens
General information
Before using the through-loading system, fold in the screens.
When cleaning the screens, follow the care instructions, see Owner's Manual for the vehicle.
Safety information
Warning

The back of the screen can become very hot during operation. There is a risk of injury. Do not touch the back of the screen.
Adjusting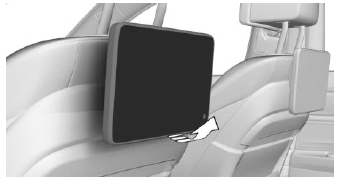 Pull on the bottom edge or press the lower edge in order to adjust the tilt.
Switching the screen in the rear on/off

Press the button on the bottom edge of the screen.
The respective screen is switched on/off.
If rear entertainment was switched off when enabling the rear seat the system cannot be switched on from the rear.
Touchscreen
The screens in the rear are equipped with a touchscreen.
The operation via touchscreen is the same as in front, see Owner's Manual for the vehicle.
Rear CD/DVD/Blu-ray player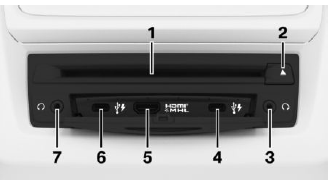 CD/DVD/Blu-ray drive
CD/DVD/Blu-ray ejection
Headphone connection, right
USB port, right
HDMI/MHL connection
USB port, left
Headphone connection, left
USB interface in the rear
There are two USB interfaces in the CD/DVD/ Blu-Ray player in the rear.
Properties:
USB port Type C.
For charging mobile devices and for data transfer.
Charge current: max. 3 A per connection.
For more information about the USB interface, see Owner's Manual for the vehicle.
READ NEXT:
General information As an alternative to the touch screen, rear entertainment can also be operated with BMW Touch Command. For further information, see BMW Touch Command in the Owner's Manual for the
Corded headphones Headphones and compatible headsets can be connected using a jack plug 1/8"/3.5 mm on the rear CD/DVD/Blu-ray player. Cordless headphones General information Suitable wireless headpho
General information A selected entertainment source can be played back in the rear via: Individual Entertainment. Theater mode. Individual Entertainment Regardless of the active entertainment so
SEE MORE:
General information The navigation system can determine the precise position of the vehicle with the aid of satellites, and can reliably guide you to every entered destination. Navigation data is stored in the vehicle and can be updated from a USB storage device. Certain services of the navigation
Overview Jump-starting, positive battery terminal Oil filler neck Coolant reservoir, auxiliary cooling Coolant reservoir, engine Jump-starting, negative battery terminal Vehicle identification number Filler neck for washer fluid Hood Safety information Warning Improperly executed work in