BMW 3: Warning function
Light in the exterior mirror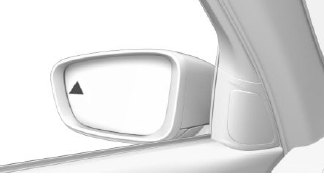 Acute warning
If there is a risk of collision, the light in the exterior mirror flashes and the steering wheel vibrates.
A Check Control message is displayed at the same time.
If necessary, an active steering intervention then takes place to prevent collisions and maintain the vehicle within its own lane.
The steering intervention can be noticed on the steering wheel and can be manually overridden at any time.
System limits
Safety information
Warning The system is designed to operate in certain conditions and circumstances. Due to conditions or other factors, the system may not respond.
There may be a risk of accident or risk of damage to property. Actively intervene as warranted. Refer to the information in this Owner's Manual regarding the scope of the system's operation and limitations.
Functional limitations
The system may not be fully functional in the following situations:
When a vehicle is approaching at a speed much faster than your own.
In heavy fog, wet conditions, or snowfall.
In tight curves or on narrow lanes.
If the bumper is dirty, iced up, or covered, for instance by stickers.
After improperly performed work on the vehicle paint.
If cargo protrudes.
In the event of missing, worn, poorly visible, merging, diverging, or multiple lane markings such as in construction areas.
When lane markings are covered in snow, ice, dirt or water.
When lane markings are covered by objects.
When driving very close to the vehicle in front of you.
If there are constant blinding effects because of oncoming light, for instance from the sun low in the sky.
If the field of view of the camera or the windshield is dirty or covered in the area of the interior mirror.
If the camera has overheated and been temporarily switched off due to excessively high temperatures.
Up to 10 seconds after the start of the engine via the Start/Stop button.
During calibration of the camera immediately after vehicle delivery.
Attaching any objects such as stickers or film in the beam area of the radar sensors will also impact the function of the radar sensors and may even cause them to fail.
A Check Control message is displayed when the system is not fully functional.
READ NEXT:
Concept The system reacts to vehicles approaching from behind. General information Two radar sensors in the rear bumper monitor the area behind the vehicle. When a vehicle approaches from the rear a
Concept If the driver is no longer fit to drive, the system helps to safely bring the vehicle to a standstill. General information The emergency stop function is not triggered automatically. The emerg
General information The system stores brief video recordings of the surrounding area of the vehicle, e.g., to document traffic events. Additionally, the following parameters are stored for the trip:
SEE MORE:
General information After one-time pairing, the devices are automatically recognized and reconnected when standby state is switched on. After stored content on the SIM card or the mobile phone, such as contacts, has been detected, the data is transmitted to the vehicle and can be used via iD
General information The previous destinations driven to are stored automatically. Open the destination from the last destinations 1. Press the button on the Controller. 2. "Recent destinations". 3. Select the destination. Edit recent destinations 1. Press the button on the Controller. 2. "Recen