BMW 3: Refueling
Follow the following when refueling
General information
Follow the fuel recommendation prior to refueling.
When refueling, insert the filler nozzle completely into the filler pipe. Lifting up the fuel pump nozzle during refueling causes:
Premature switching off.
Reduced return of the fuel vapors.
The fuel tank is full when the filler nozzle clicks off the first time.
Make sure that the fuel cap is closed properly after refueling, otherwise the emissions warning light may light up.
Follow safety regulations posted at the gas station.
Safety information
NOTICE With a driving range of less than 30 miles/50 km the engine may no longer have sufficient fuel. Engine functions are not ensured anymore. There is a risk of damage to property. Refuel promptly.
NOTICE Fuels are toxic and aggressive. Overfilling of the fuel tank can damage the fuel system. Painted surfaces may be damaged by contact with fuel.
Escaping fuel can harm the environment. There is a risk of damage to property. Avoid overfilling.
Fuel cap
Opening
1. To open the fuel filler flap, press on the rear edge, arrow. The fuel filler flap opens.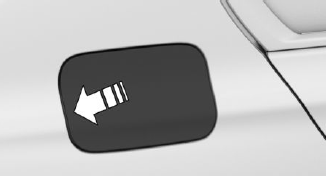 2. Turn the fuel cap counterclockwise.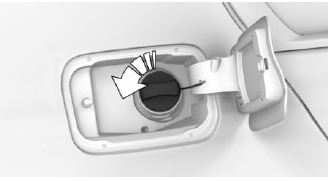 3. Place the fuel cap in the bracket attached to the fuel filler flap.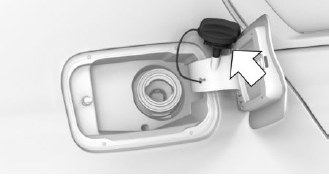 Closing
Warning The retaining strap of the fuel cap can be jammed and crushed during closing. The cap cannot be correctly closed. Fuel or fuel vapors can escape. There is a risk of injury or risk of damage to property. Pay attention that the retaining strap is not jammed or crushed when closing the cap.
1. Fit the cap and turn it clockwise until you clearly hear a click.
2. Press on the fuel filler flap until it engages.
Emergency unlocking
It may be necessary in certain situations to unlock the fuel filler flap manually, for instance with an electrical fault.
Have fuel filler flap unlocked by a dealer's service center or another qualified service center or repair shop.
READ NEXT:
General information The tire characteristics and tire inflation pressure influence the following: The service life of the tires. Road safety. Driving comfort. Fuel consumption. Safety informatio
Tire size 245/45 R 18 96 Y 245: nominal width in mm 45: aspect ratio in % R: radial tire code 18: rim diameter in inches 96: load rating, not for ZR tires Y: speed rating, before the R on ZR tires Max
SEE MORE:
Concept Stationary climate control cools or heats the car's interior prior to departure to a comfortable temperature. The system automatically cools, vents, and heats depending on the interior, external, and set temperature. Snow and ice may be removed more easily. The system starts the engine au
The high-voltage cables connect the high-voltage components and are identified by orange cable sleeves. The manufacturers of hybrid cars have agreed on a uniform identification of the high-voltage cable with the orange warning color. An overview of the high-voltage cables used in the G20 PHE