BMW 3: Map, Destination guidance
Map
Opening the map

The map can be accessed directly with the button on the Controller.
Overview
General information
The map can be used via iDrive.
Basic entry explanation, refer to the Owner's Manual for the vehicle.
Map view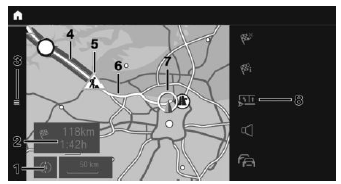 With operation via touchscreen: change map view
Status field
Open destination input menu
Route section with traffic obstruction
Traffic sign for traffic obstruction
Planned route
Current location
Function bar
Function bar
To change to the function bar, move the Controller to the right.

Terminate destination guidance.

Open destination input menu.

Route details.

Switch spoken instructions on and off.

Real Time Traffic Information RTTI.
Status of RTTI.

Select theme map.

Set up map.

Add intermediate destination.

Settings.

Split screen.
Status field
The following information is displayed:
Symbol for active destination guidance.
Time and distance to destination.
If necessary, time delay due to traffic obstructions.
Traffic obstructions
When traffic bulletins are received, traffic obstructions can be displayed on the map.
Real Time Traffic Information RTTI.
READ NEXT:
Starting destination guidance 1. Press the button on the Controller. 2. Select the type of destination entry. 3. Select the destination. 4. If necessary, start destination guidance. Information wi
Concept During destination guidance, more detailed information about the current route can be displayed and the route can be adjusted. General information Depending on the equipment, different views o
Concept When destination guidance is activated, a list of route sections can be displayed. General information The following information is displayed: Display of destination guidance information, s
SEE MORE:
The regenerative braking makes possible brake energy regeneration. The electrical machine works here as an alternator and brakes the gears via automatic transmission - propeller shaft - rear axle differential - output shafts. The high-voltage battery unit is charged with the energy
BMW maintenance system The maintenance system indicates required maintenance measures, and thereby provides support in maintaining road safety and the operational reliability of the vehicle. In some cases, scopes and intervals of the maintenance system may vary according to the country version. Rep