BMW 3: Introduction
Although the high-voltage battery unit of the G20 PHEV can also be partially charged by energy recovery via the electrical machine, the "normal" charging procedure takes place when the G20 PHEV is connected to the AC voltage network of the local power supply company. Energy is taken from the alternating current voltage network and fed to the direct current voltage high-voltage electrical system.
To allow this to happen, the G20 PHEV can be connected to an AC charge station or charged via the charging cable.
The charging procedure is never carried out with the maximum possible charge current. At the start, charging takes place with constant current. Switchover to constant voltage takes place towards the end. The actual charging time is increased as a result, and the service life of the battery cells is extended.
If the G20 PHEV is connected to an AC charging station, the maximum possible charging power of approximately 3.7 kW is also available (provided the AC charging station is designed for this).
System wiring diagram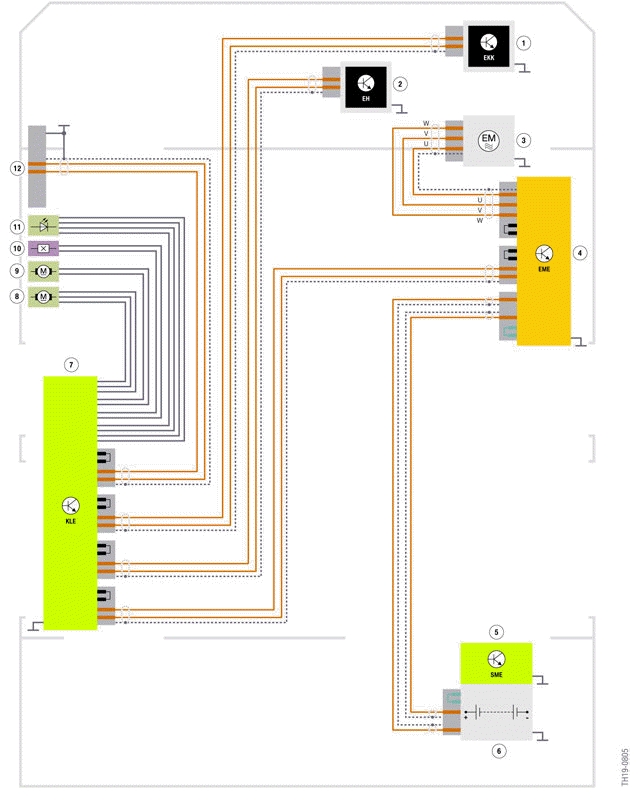 System wiring diagram for AC charging with 3.7 kW
Electric A/C compressor (EKK)
Electrical Heating (EH)
Electric motor
Electric Motor Electronics (EME)
Battery management electronics (SME)
High-voltage battery unit
Convenience charging electronics (KLE)
Drive, connector fastener
Drive, charging socket cover
Charging socket cover sensor
Locator and status lighting
Charging socket at the vehicle
READ NEXT:
The "charging" procedure for an electric vehicle corresponds to "refuelling" a conventionally driven vehicle. Accordingly, in this chapter "charging" means: Charging the high-voltage battery unit d
The high-voltage battery unit of the G20 PHEV can generally only be charged by alternating current (AC charging) at a maximum charging power of 3.7 kW. The charging option for the high-vol
SEE MORE:
General information More than one assistance function can be active at the same time. The following assistance functions can be manually activated: "Parking aid lines". "Obstacle mark.". "Car wash". The following assistance functions are automatically displayed: Side protection. Door openin
Owing to the fact that the air conditioning compressor in the G20 PHEV is electrically operated and that the high-voltage battery unit has high energy and power densities, a stationary climate control function is offered to the customer in the G20 PHEV. For stationary air conditioning,