BMW 3: Displays and control elements
In the vicinity of the steering wheel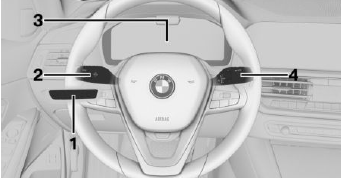 Light switch element
Turn signal indicator, high beams
Instrument cluster
Wipers
Indicator/warning lights
Instrument cluster
The indicator/warning lights can light up in a variety of combinations and colors.
Several of the lights are checked for proper functioning and light up temporarily when the engine is started or standby state is switched on.
Driver's door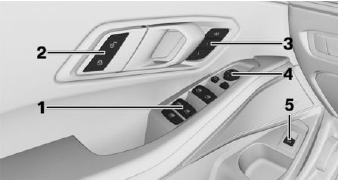 Power windows
Central locking system
Seats, comfort features
Exterior mirrors
Opening/closing trunk lid
Switch console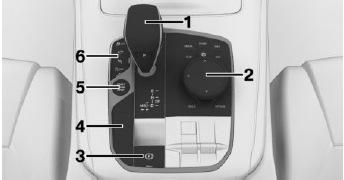 Selector lever/gearshift lever
Controller
Parking brake, Automatic Hold
Driving Dynamics Control
Start/Stop button
Assistance systems
iDrive
Concept
iDrive includes a large number of functions.
These functions can be operated via the Controller and, depending on the equipment version, via touchscreen, voice activation system or gesture control.
Buttons on the Controller

Opens the main menu.

Opens the Apps menu.

Opens the Communication menu.

Opens the Media/Radio menu.

Opens destination input menu for navigation.

Opens navigation map.

Opens the previous display.

Opens the Options menu.
Voice activation
Activating the voice activation system
1.

Press the button on the steering wheel.
2. Wait for the signal.
3. Say the command.

The symbol on the Control Display indicates that the voice activation system is active.
If no other commands are possible, operate the function via iDrive.
Terminating the voice activation system

Press the button on the steering wheel or ›Cancel‹.
READ NEXT:
Manually adjustable seats Forward/backward Thigh support Seat tilt Backrest width Lumbar support Height Backrest tilt Electrically adjustable seats Backrest width Forward/backward, heigh
SEE MORE:
Setting the language The language to be used for voice activation and system announcements can be set. Via iDrive: 1. "CAR". 2. "Settings". 3. "General settings". 4. "Language". 5. "System language". 6. Select the desired language. Setting the voice dialog You can set the system to use standard
General information Depending on the equipment, the exterior lighting of the vehicle can be set individually. Activating/deactivating Via iDrive: 1. "CAR". 2. "Settings". 3. "Exterior lighting". 4. Select the desired setting: "Welcome and goodbye" When unlocking the vehicle, individual light