BMW 3: Washer fluid
General information
All washer nozzles are supplied from one reservoir.
Use a mixture of tap water and windshield washer concentrate. If desired, a windshield washer concentrate containing antifreeze can be used.
Recommended minimum fill quantity: 0.2 US gal/1 liter.
Safety information
Warning Some antifreeze agents can contain harmful substances and are flammable. There is a risk of fire and a risk of injury. Follow the instructions on the containers. Keep antifreeze away from ignition sources. Do not refill operating materials into different bottles. Store operating materials out of reach of children.
United States: the washer fluid mixture ratio is regulated by the U.S. EPA and many individual states; do not exceed the allowable washer fluid dilution ratio limits that apply. Follow the usage instructions on the washer fluid container.
Use of BMW's Windshield Washer Concentrate or the equivalent is recommended.
Warning Washer fluid can ignite and catch fire on contact with hot engine parts. There is a risk of injury or risk of damage to property. Only add washer fluid when the engine is cooled down.
Next, fully close the lid of the washer fluid reservoir.
NOTICE Silicon-containing additives in the washer fluid for the water-repelling effect on the windows can lead to damage to the washing system.
There is a risk of damage to property. Do not add silicon-containing additives to the washer fluid.
NOTICE Mixing different windshield washer concentrates or antifreeze can damage the washing system. There is a risk of damage to property.
Do not mix different windshield washer concentrates or antifreeze. Follow the information and mixing ratios provided on the containers.
Overview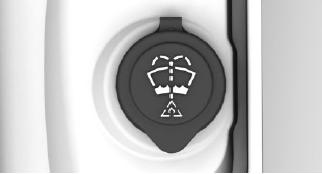 The washer fluid reservoir is located in the engine compartment.
Malfunction
The use of undiluted windshield washer concentrate or alcohol-based antifreeze can lead to incorrect readings at temperatures below +5 ℉/-15 ℃.
READ NEXT:
BMW maintenance system The maintenance system indicates required maintenance measures, and thereby provides support in maintaining road safety and the operational reliability of the vehicle. In some
The onboard vehicle tool kit is located in the left storage compartment of the cargo area under a cover. Wiper blades Safety information NOTICE The window may sustain damage if the wiper falls onto i
SEE MORE:
General information Attach load securing aids, such as lashing straps, tensioning straps, draw straps or cargo nets, to the lashing eyes in the cargo area. Lashing eyes There are four lashing eyes in the cargo area for securing cargo. Multi-function hook General information A multi-function hook i
Control Display Hazard warning system Intelligent Safety Ventilation Glove compartment Automatic climate control Radio/multimedia, see Owner's Manual for Navigation, Entertainment, and Communication Controller with buttons Parking brake Automatic Hold Driving Dynamics Control SPO